Review: 3Women (Trafalgar Studios)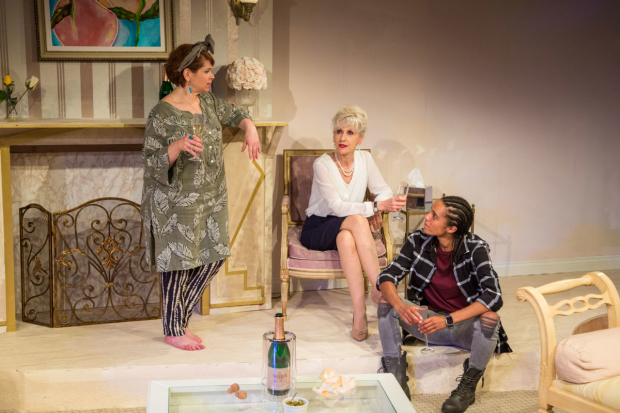 3Women is the first play by comedian Katy Brand, but it's far from the first of its kind. It's extremely warm-hearted, and sit-com funny, but the set-up feels old hat, as if Brand squeezed the themes she wanted to explore into the shape she thought a play ought to be.
It's the night before Suzanne's wedding. She's joined in a swanky hotel suite – a gift from stable-but-dull husband-to-be Gary – by her mother Eleanor and daughter Laurie. Suzanne is a wafty earth-mother type, who in middle age has finally accepted that she's absolutely happy just to be average. Eleanor, however, wanted more for her. She's the image of prim, put-together elegance – coiffed, suited, heeled – but beneath the surface, she's corroded by bitterness and booze. University-educated, her ambition was swallowed up by marriage and motherhood; she self-medicated with G&Ts.
Laurie, meanwhile, is a breath of fresh air, a symbol of a new generation throwing off the shackles of expectation. She identifies as gender-fluid, has an internet boyfriend James (who used to be Jane) she's never met, but is open to whatever life throws at her – including the cute room service guy. Laurie is convinced in the future we'll be part-robotic, wholly sex-positive, and free from the burden of carrying children in our wombs – a thought that, cleverly, appeals to Eleanor as much as it appalls the otherwise open-minded Suzanne.
Cooped up in one room (elegantly created in Zahra Mansouri's creamy rose set) and fuelled by several bottles of prosecco, the three generations' comic lack of comprehension deepens, and they go from the odd clawed swipe into full-on assaults on the jugular. Secrets are revealed. Childhood traumas are exorcised. Some closure is achieved by dawn.
It's highly predictable, and frankly Brand's insights into the different economic and social expectations on the generations are too pat to make up for that. It also too often feels like these women are just being given Issues that will throw up Topics.
Laurie's speeches, in particular, feel like an assembly of 'crazy things about kids today!' rather than an attempt to reflect lived experience. Watching with a friend who is transitioning, she found the way trans and non-binary gender identities were posited as new, modern, confusing-for-gran 'trends' or lifestyle choices of the young to be pretty insensitive.
Happily, Brand's humour leavens proceedings. If the content can be laid out a little heavily, the actual dialogue often springs and slices. And Michael Yale's production has a trio of very nice performances.
Anita Dobson starts off as a little too winningly sweet an Eleanor, but her barbs soon hit home and her later crumpling is convincing. Debbie Chazen is marvellous and very relatable as Suzanne – an appealing, open performance which also vibrates with a certain lifelong irritation particular to mother-daughter relationships. Finally, Maisie Richardson-Sellers is superb as Laurie: she carries herself with teenage swagger that never rankles; you root for her, in all her vulnerability and her optimism and her freshness.
And while the three of them mine the comic potential in the inter-generational misunderstandings and squabbles, they also really bring out the warmth and ultimate generosity of the play. This, in the end, is 3Women's greatest strength, and the play is lucky to have it so served by this cast.