Review: Der Rosenkavalier (Glyndebourne)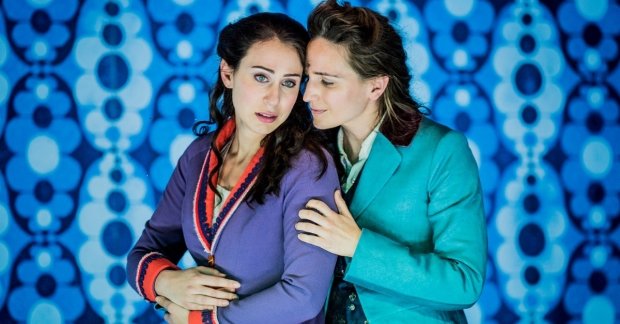 Glyndebourne, in its wisdom, has opened the 2018 festival with a brace of operas dedicated to the sexual pursuit of underage teenagers by their libidinous seniors. After the tragedy of Madama Butterfly (age 15) comes the comedy of Richard Strauss' Der Rosenkavalier in which not one but two mature adults lust after the young. At 17, Count Octavian may be just the right side of legal by modern standards, but innocent Sophie certainly deserves better than a ghastly man in an orange wig who attempts to grab… but you're there before me.
Why, then, do audiences love these two operas so much? Because one way or another the forces of darkness are thwarted, and both pain and happiness unfold to some of the most sumptuous music ever composed.
While this first revival of Richard Jones' 2014 Der Rosenkavalier may not have ironed out its glitches, that doesn't preclude it from earning five stars. Few theatrical evenings can lay claim to perfection, but what raises this one is the elation it engenders through radiant performances and stagecraft. When the exploration of a young man's progress from cougar's beau to age-appropriate lover is sung as well as it is here, the final trio, at once ecstatic and autumnal, becomes a drip-feed of euphoria.
Considering that Glyndebourne has had to recast both the Marschallin and Sophie late in the day, with each role now shared between two replacement singers, the first-night pair achieved a euphony in partnership with Kate Lindsey's exemplary and life-hungry Octavian that was astonishing. Rachel Willis-Sørensen is a practised Marschallin and she was in regal voice, floating Strauss' most aristocratic lines with elegant control and resignation, while sweet-toned Elizabeth Sutphen rounded off the triple-header of American divas as a touching and vulnerable Sophie.
British bass Brindley Sherratt was sensational as the noisome Baron Ochs, a role he played last year for Welsh National Opera. This time round the freedom of his performance and the buoyant physicality of his bewigged appearance rendered him barely recognisable, while those rounded basso notes had more than a touch of velvet. Among a distinguished roll-call of secondary players, Alun Rhys-Jenkins and Stephanie Lauricella stood out as the oleaginous turncoats Valzacchi and Annina.
Not everything is perfect in Jones' production. The busy opening act is muddled because it's played across a shallow stage in two dimensions rather than three. The chaos is intentional but it troubles the eye. Paul Steinberg's wallpapered designs, however, are clean and beautiful, and they remain so even when depicting the arriviste Faninal's glitzy pad and the brothel-like vulgarity of Strauss' climactic inn scene.
In other flaws, the occasional drop-in by a silent Sigmund Freud is a gratuitous accretion, while on opening night conductor Robin Ticciati drained the composer's sexually explicit Prelude of its eroticism by galloping through it, presumably in an attempt to suggest a rutting teenager rather than an attentive lover. It didn't work. Thereafter, thankfully, neither he nor the fabulous London Philharmonic Orchestra put a foot wrong, and the opera's hours sped by in aural luxury.
Yet beyond the music there are countless treasurable moments in Sarah Fahie's revival: Sophie's tabletop humiliation at being bartered by her father; Octavian's spectacular gulling of Ochs in a scene whose execution is far more disciplined than most productions achieve; the dreamlike perfection of Jones' stage dispositions in the opera's intimate scenes. His delicate depiction of love at first sight during the Presentation of the Rose is a breathtaking invention that's lachrymal catnip: tender, touching and funny.