Rebecca musical has its UK premiere – review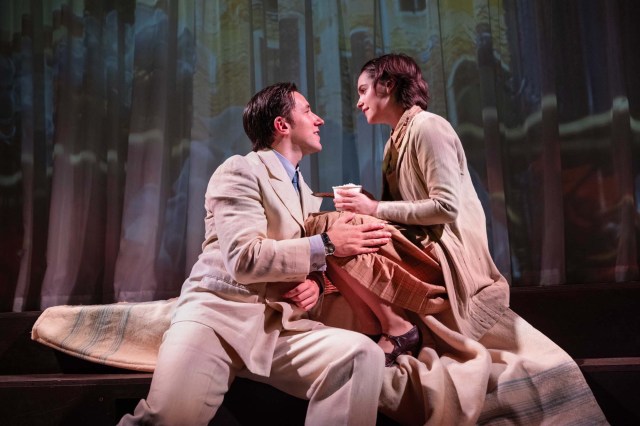 The original production of Michael Kunze and Sylvester Levay's musicalisation of the oft-filmed Daphne du Maurier novel was a major hit in Vienna in 2006, and the show has since enjoyed success all over Europe as well as in Russia and Korea. Watching Rebecca in this first-ever English language production, it's hard to work out whether it's the show itself or the boggling array of problems with Alejandro Bonatto's inept staging that makes this such a strange evening.
It's probably a bit of both: Levay's tunes are nice enough, in a Eurovision power ballad-y sort of way, but Christopher Hampton and Kunze's lyrics range from the pedestrian to the risibly banal, and Hampton's adaptation of Kunze's original script is only serviceable. The songs tend to stop the show in its tracks rather than advance the plot or illuminate the inner lives of the protagonists; time and time again, leading characters stand solemnly centre stage amid plumes of dry ice, belting out the big notes with gong-like persistence and implacability, but not much in the way of light and shade. The voices are very good, but the acting is harder to judge because the stage is often so dimly lit it's hard to ascertain which direction the actors are facing, let alone what emotions they're registering.
A 2012 Broadway premiere was to have starred Sierra Boggess as the second Mrs de Winter, named "I" here, or "Ich" in the original German, the innocent naïf struggling against the shadows cast by Rebecca, her new husband's mysterious, beautiful and dead former wife, but that was delayed then cancelled amidst financial wrangling and accusations of nefarious activity. One can't help feeling that Sierra and the New Yorkers had a lucky escape. Still, here it finally is in London and while it's not quite dead on arrival, it's a struggle to find much of a pulse.
Du Maurier's compelling story – part psychological thriller, part poisoned romance – is dressed up with soupy ballads and jolly chorales, and is rendered almost entirely lacking in dramatic tension in Bonatto's amateurish production. The Viennese original was breathtakingly opulent, as were many of the revivals that followed it across Europe, with a cast of dozens, spectacular sets, and a soaring, revolving staircase that burst into flames to signify the razing of Manderlay, the remote country house where Max de Winter brings I (or Ich), and adjacent to where Rebecca met her untimely end.
Of course, we can't reasonably expect all that in the subterranean confines of Charing Cross, but instead of going stylishly minimalist and impressionistic, and allowing the audience to use their imaginations, Bonatto and his design team have created an uninspired compendium of folding flats and billowing curtains in a muted colour scheme that have the unfortunate effect of making the allegedly luxurious Manderlay look like a wartime Village Hall. This is especially jarring as we are constantly being told what great taste Rebecca had, and the slightly hysterical sense of production values not quite being top flight is further enhanced when noise from scenic changes behind a scrim threatens to drown out the actors right in front of the audience.
Technical snafus like that will hopefully slicken up as the run progresses but not much can be done to alleviate the grim earnestness of the script or the portentous repetition of the score (the title song, intoned with statuesque relish by Kara Lane as Mrs Danvers, the starchy, sinister, Rebecca-obsessed housekeeper – think Phantom's Madame Giry without the warmth – pops up regularly, to increasing and unintentional comic effect), or lyrics like "I'll glide down the stairs, and catch them all unawares." If the show was more visually appealing it might deflect attention from such shortcomings, but instead we are sat there in the gloom, looking at that set and some rather wan projections, or at least trying to look at them because, like I said before, it's all mystifyingly dark.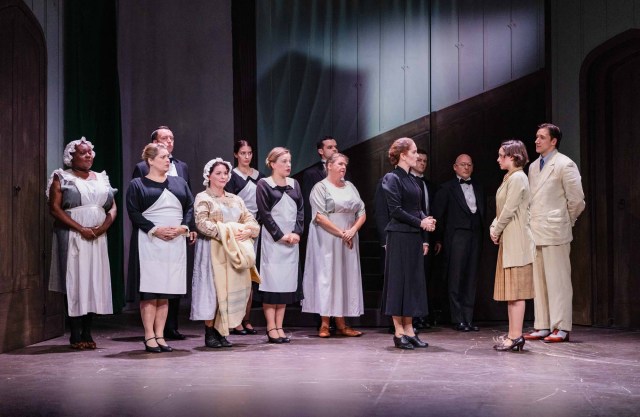 Musical director Robert Scott conducts an orchestra of 18 which should sound pretty lush but the nature of the space means that they're being piped in from another room, with the result that they frequently seem underpowered. By contrast, the singing is vital and exciting. A talented company bring energy and attack to the ensemble numbers, almost making it possible to overlook that their contributions are mostly superfluous to the central storyline. Bonatto has them rampaging through the auditorium at regular intervals which is rather fun, if hardly essential.
Lauren Jones sings like an angel and projects an appealing vulnerability that convincingly strengthens to a hard veneer of determination when I, or Ich, realises how much trouble Max might be in. Opposite her, Richard Carson delivers a blank performance that only flares into life when he sings (which he does, magnificently). He never quite seems posh enough to be credible as the inheritor of a country estate and fortune; both of the young stars read as a little too modern and could do with leaning in to the melodramatic excesses of the story, something which a better director might have been able to guide them towards, although Lane's Mrs Danvers captures the tone precisely.
Piers Bate is charming and sweet-voiced but is saddled with a deeply bizarre number. Shirley Jameson brings some much needed comic verve as the appalling American socialite I, or Ich, is working for when she meets Max: she only gets one scene and the energy dips considerably once she's gone. The less said the better about the idiot savant character who may or may not know what really happened to Rebecca, or the semi-drunken villain who gets a misguided vaudeville-type number about how unpleasant he is, or the ghastly "comedy" patter song for I, or Ich,'s new in-laws.
Ultimately, not every story lends itself to the musical treatment, and with its low level menace and murky remembrances and recriminations, Rebecca might work better as a modern opera, something along the lines of Britten's The Turn of the Screw. As a tuner stuffed with big belting numbers, it's too sincere to be high camp (although the final image of Lane's Danvers, her immaculate coiffure all let loose, processing up an apparently burning staircase for one last time, comes pretty close), and too schlocky to take seriously. This show has a passionate worldwide fan base which will probably grow even further here, but once was more than enough for me.