Orange Tree to showcase rare revivals by David Mamet and Caryl Churchill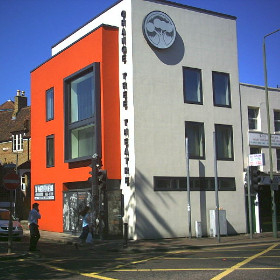 Rare revivals of plays by David Mamet and Caryl Churchill make up the Orange Tree Theatre's showcase double bill for its Trainee Directors' Scheme later this year.
Mamet's Squirrels and Churchill's The After-Dinner Joke will run from 23 May to 7 June 2014 (previews from 21 May).
Squirrels, directed by Lewis Gray, is a 1974 comedy by David Mamet which follows Arthur, a writer working on a book about a man's encounter with a squirrel. He struggles after hiring a new secretary, Edmund, who is much younger and has a very different style from his own. The two quickly find themselves butting heads as they work towards finishing the story. Arthur's cleaning lady also turns up, offering some writing guidance of her own. The three come together in Mamet's play to depict the complexities in the nature of creativity.
Mamet's other plays include Glengarry Glen Ross, Speed-the-Plow and Oleanna.
Caryl Churchill's The After-Dinner Joke, an epic television play, first aired on the BBC's Play for Today in 1978. The show, where five actors play over forty characters in 66 fast moving scenes, is directed by Sophie Boyce. Selby's life takes a turn after resigning from her job as a personal secretary to work for the corporation's charity campaign organisers. She quickly recognises the role politics plays in an industry she originally hoped would provide an outlet for her to "do good."
Other credits from Churchill include Top Girls, Far Away and A Number.
The Trainee Director Scheme has paved the way into the industry for some of London's leading directors including Sean Holmes, Rachel Kavanaugh, Timothy Sheader and Anthony Clark since 1982.
Casting has yet to be announced for the productions, which run from 21 May until 7 June 2014.