Old Vic's Other Desert Cities roundly praised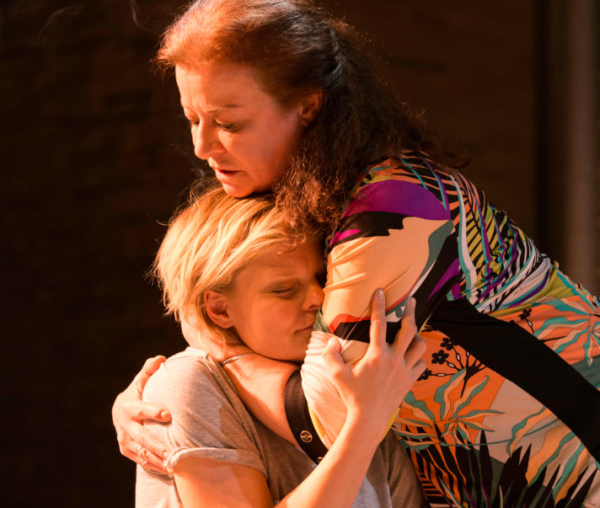 Michael Coveney
WhatsOnStage
★★★★
The title of Jon Robin Baitz's exceptionally well-written and historically resonant domestic dust-up in Palm Springs is a road sign as you leave the place… Brooke Wyeth, a middle-aged blocked novelist who has written a scathing family memoir, and is scathingly well played by Martha Plimpton… The atmosphere resonates with political and performance references… There are many such heartfelt speeches in the play, which unravels powerfully… The Old Vic has been reconfigured again for this season, and Lindsay Posner's imaginatively cast production – the acting is flawless – is played in Robert Innes Hopkins' design on a circular stage bordered by palm trees… But coming hard on the heels of David Lindsay-Abaire's Good People at Hampstead, it seems we're enjoying a mini-season of the best recent American playwriting…
Charles Spencer
Daily Telegraph
★★★★
… within minutes this outstanding play by the American dramatist Jon Robin Baitz had me completely hooked. It is often laugh-out-loud funny, but it is also a bruising family drama and one that springs surprises to the very end… this is a work that keeps you on your toes, and there is an astonishing revelation in the second half that makes the audience see much that has gone before in a fresh light… Lindsay Posner's impeccably judged production, staged in the round and sleekly designed by Robert Innes-Hopkins, finds all the drama's strengths with the help of a terrific cast. The American actress Martha Plimpton is superb… Sinéad Cusack plays the mother with an icy clarity and ferocious control that put me in mind of Nancy Reagan, while Peter Egan is deeply moving as the grieving father appalled by what his beloved daughter is proposing to do. This is a beautifully crafted and continually absorbing play that proves much richer than the hatchet job on American Republicans that it initially seems to be.
Paul Taylor
Independent
★★★★
The Old Vic kicks off its second season of in-the-round productions with a witty, blistering play by American dramatist Jon Robin Baitz, the intimacy of the new configuration serving well its sharp, unwavering focus on a feuding, politically divided household… As Lindsay Posner's superlatively well-acted production richly demonstrates, this is not a play that allows your sympathies to settle comfortably – and not just because there's a devastating and not-wholly-plausible revelation in the second act that forces you to reassess much of what's gone before… American actress Martha Plimpton beautifully captures the mix of anguished vulnerability and dangerous authorial self-regard… In her fear of weakness, Brooke is a lot like her mother Polly who is brilliantly portrayed here by Sinead Cusack… by the end of Baitz's clever, even-handed play, this unreconstructed liberal is looking pretty compromised and inauthentic too. A great start to the in-the-round season.
Dominic Maxwell
The Times
★★★
This buried-secret family drama by Jon Robin Baitz went down so well in New York in 2011 that it was shortlisted for a Pulitzer prize. Here, despite a brilliant cast led by Sinéad Cusack and Martha Plimpton, it comes across as a moderate play fancying itself as a great one. While I was intrigued by Baitz's wealthy Wyeth clan at the outset, I was hard pushed to care which way their lives would go in this traumatic evening for them… Lindsay Posner's production, played out in the middle of the Old Vic's reconfigured auditorium on Robert Innes Hopkins' clean-cut living-room set, at last resounds with what Trip calls "stiff-upper-lipped, thermonuclear family war"… Yet for all his characters' depth, Baitz is a draft away from getting the best out of them. The play nags away, with too little variation, at the same question of whether or not Brooke should publish. When the family's secret finally comes out, it's interesting but not devastating… We expect, and get, great things from Cusack, but Plimpton really impresses…
Fiona Mountford
Evening Standard
★★★
In the real world, most people don't present their loved ones with the incendiary memoir they have written about their own family just before dinner on Christmas Eve. Yet this is not the real world…
Other Desert Cities marks the start of a season of Old Vic plays… now it's intimate and up-close, as we watch the Wyeth family sparring like boxers in a Californian ring for director Lindsay Posner. In a witty design touch, a palm tree is placed diagonally opposite a Christmas tree… Baitz worries productively at chewy themes… I struggled to believe that Brooke could have been so naïve as to think that her parents wouldn't feel mortally betrayed by what she planned to reveal to the world. Cusack, full of icy rationality and aversion to 'lefties whining' and Plimpton, who cleverly deploys Brooke's depressive tendencies as a get-out-of-jail free card, both give magnificent performances; Clare Higgins slyly steals scenes as an alcoholic aunt. In fact, come an unlikely second half reveal, they increasingly soar above the material they are given.
Join us on our WhatsOnStage Outing to Other Desert Cities on 14 April and get a top-price ticket, free programme and drink for £35