Old Mother Goose (York Theatre Royal)
What new can be said about a Berwick Kaler panto? In many ways, it's a pointless exercise. Kaler does not strike me as someone who concerns himself with "newness".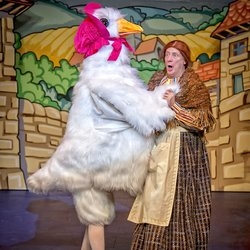 The story isn't new. The structure isn't new. None of the jokes are new (okay, there maybe one, which Kaler is very keen to point out). Few of the faces are new (there's even the welcome return of David Leonard after a 2 year stint playing Matilda's Miss Trunchbull in the West End). Most tellingly of all, I'd estimate 90% of the audience weren't new either.
Tradition and familiarity are always firmly at the heart of this York institution. Kaler and his ensemble and co-director Damian Cruden know exactly what works and what their audience wants. It is a winning formula which keep generations of families returning year after year.
This year it's Old Mother Goose, in name if nothing else. There is a token giant goose and a golden egg but generally the plot is relegated to virtual non-existence in favour of a kinetic, disorderly hodgepodge of mayhem, mishaps and musical numbers.
Of course, this is by no means a criticism. Nobody attends the York panto on the strength of the story choice. They attend because of the unparalleled sense of inclusion and warmth generated by Kaler and his team of familiar players. Martin Barrass (Barney Goosegog), Suzy Cooper (Margarine Goosegog) and David Leonard (wonderfully sardonic as The Dreaded Lurgi) are cheered (or booed in Leonard's case) before they have even uttered a word, such is the love that is felt for them by the York audiences.
Amid all the chaos it could be easy to underestimate the enormous level of craft and expertise that goes in to these annual productions. The cast are all highly skilled in engaging the audience and delivering Kaler and Cruden's unique brand of nonsense. Phil R. Daniels and Charles Cusick Smith's cartoonish set is deceptively simple, and Elliot Styche and Grace Harrington provide music and dance respectively, perfectly in sync with the show's overall tone and feel.
The greatest trick Kaler pulls off is that whilst he's diverting us with pratfalls, soakings and general silliness he manages to, almost subliminally, create an irresistible surge of Christmas anticipation and goodwill to all men, women and children. When the lights went up and we filed out of the theatre I had an overwhelming urge to run through the streets of York like James Stewart in It's A Wonderful Life shouting "Merry Christmas" to everyone I passed.
Old Mother Goose continues at York Theatre Royal until 31 January 2015.