Much Ado About Nothing (Royal Exchange Theatre, Manchester)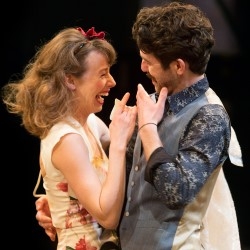 There is a contemporary feel to Much Ado About Nothing, as the plot – of two lovers who conceal their mutual affection behind squabbling – is the basis of any number of modern romantic comedies.
Director Maria Aberg's updating to the aftermath of World War II has, however, greater ambitions than just securing audience identification. As the conflict provided opportunities for women to occupy professions previously reserved for men, Aberg casts women in roles written as male. As the cast is particularly fine and the basic story is strong, Aberg's approach enhances, rather than distracts from, the play.
Dogberry and the raggle-taggle band of constables are in the style of Dad's Army, the comedy coming from their over-enthusiasm as much as lack of wit. Sandy Foster, myopic and speaking in an almost impenetrable Brummie accent, brings a touch of social awareness, making Dogberry a sly social climber trying to ingratiate with her social betters and then concealing her dismay when her advances are ignored. In an inspired touch, Foster, in character, prowls the foyer chasing latecomers.
The casting of Marty Cruickshank as Leonato is a great success, combing genial affection with an indomitable spirit. It may sound sexist, but there is greater emotional impact in a mother (rather than a father) initially denying her disgraced daughter and then setting out for redress.
If Dogberry is one of Shakespeare's better clowns, the plain speaking Don John is one of his more disappointing villains. Yet Milo Twomey's embittered, shell-shocked, possible junkie brings depth to a two-dimensional character and nudges him towards the status of Iago.
The loose limbed and gangly Paul Ready, as Benedick, is an awkward lover. Aware that he is fighting a losing battle against his emotions, his speeches sound more like he is trying to convince himself than setting out a manifesto against marriage. Reddy's relaxed natural style of verse speaking is perfect for the modern setting.
Benedick seems less mature than the chain smoking, initially brittle, Beatrice. Ellie Piercy's cool performance brings a hint of 1940's showbiz glamour reminiscent of Katharine Hepburn. Her version is a self-contained woman who uses her wit for defence rather than flirting. There is a sense that Beatrice has been hurt before and is determined not to repeat the experience. The romance between the lovers becomes, therefore, less a blazing passion than an attempt to correct past mistakes and surrender to the attraction that has been apparent from the start.
The comedy elements mesh well with the love story. Great use is made of the intimate layout of the Royal Exchange, with Reddy crawling through the audience as Benedick eavesdrops on conspirators. Aberg breaks some theatrical conventions for comedic purposes. Dogberry and the constables travel with their own soundtrack. The occasional modern element that slips into the play is revised to fit the period, with lyrics from Beyonce sung in the style of the Andrews Sisters.
Merle Hensel's design – a bare wood stage overhung with a massive chandelier – suggests desperation to celebrate the end to wartime austerity. Its adaptability, however, provides some surprising and dramatic changes of mood to reflect the shock of Hero's disgrace and the depth of Claudio's repentance.
The overall mood of the Royal Exchange's production of Much Ado About Nothing is one of people desperate to escape past privation and move on to happier times. Told you it was contemporary.
Much Ado About Nothing is at the Royal Exchange until 3 May.
– David Cunningham