Morecambe (Tour – St Albans)
I first saw Bob Golding in his award-winning characterisation of Eric Morecambe (né Bartholomew) at a try-out performance just before it took 2009 Edinburgh audiences by storm. For the 2014 tour, Morecambe is playing in much larger venues.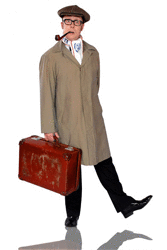 Paul Hendy's direction of Tim Whitnall's script for Morecambe fortunately allows Golding free rein, as he whirls us through the life and times of what surely counts as one of this country's best-loved and longest-lasting comedy double-acts.
It's a fine piece of acting – that should probably be "pieces", as Golding also personifies all the show-business personnel with whom Morecambe and Wise had to cope. It is utterly credible, but in no way a straightforward impersonation; one of those look-alike but flattened mirror images.
Morecambe lived for the latter part of his life in Harpenden, Hertfordshire, so the opening performance of this new tour at the Alban Arena, St Albans – just down the old Roman road of Watling Street – had an added home-turf frisson. Golding is also a local man and Gary Morecambe, Eric Morecambe's son, was in the first-night audience.
There's a lot of dry ice, though the set itself is simple enough. There's a sort of seen-better-days swagged curtain one associates with both the second-circuit variety theatres and music-halls where Eric and Ernie learnt their trade. It's a vanished era, of course, that one of twice-nightly, six days a week, ten-minute chances to wow an audience or be hooted off the stage.
An old sofa transforms into auditorium fauteuils, an all-purpose travelling trunk holds props, quick-change accoutrements and serves as a perch for the ventriloquist's dummy which represents Wise (né Wiseman). Behind ultimate success, we find out, lies much hard work, many professional disappointments but also the ability to learn from failure as well as triumph.
Morecambe was a workaholic, perhaps because of his mother's ambition for him. That led ultimately to a series of heart attacks and his untimely death. The first night audience rose in a spontaneous ovation for Golding. I suspect though that it was equally a tribute to Morecambe. Oh yes, and of course to Wise.
Morecambe is on national tour to 21 June.