Meet the stars of the new Jesus Christ Superstar tour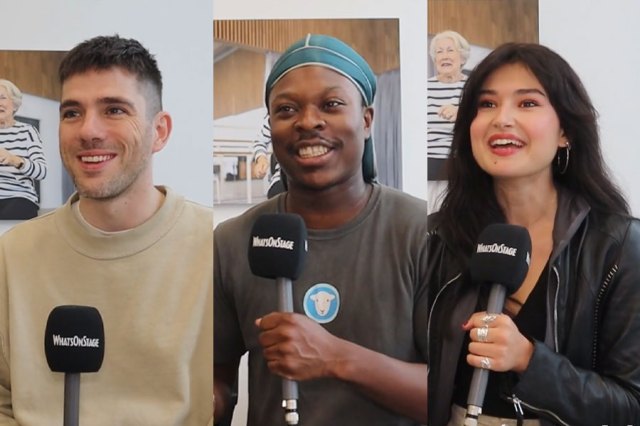 During rehearsals for the new Jesus Christ Superstar tour, we sat down to chat with three of the production's stars: Ian McIntosh (who plays Jesus), Shem Omari James (Judas Iscariot), and Hannah Richardson (Mary Magdalene).
Get to know the musical trio, who talk about their respective auditions and where they rank JCS in the Andrew Lloyd Webber canon, in the video below.
The company also includes Julian Clary, who will play Herod during the initial 2023 dates: Manchester (11 to 23 September), Newcastle (26 to 30 September), Aberdeen (10 to 14 October), Glasgow (16 to 21 October) and Liverpool (23 to 28 October). 
Joining them are Ryan O'Donnell as Pilate, Jad Habchi as Caiaphas, and Matt Bateman as Annas, alongside Jasmine Jules Andrews, Pàje Campbell, Louise Francis, Francis Foreman, Megan Bryony G, Joshua Hawkins, Darius J James, Cassandra Lee, Stephen Lewis-Johnston, Charlie McCullagh, Jago Mottart, Mia Musakambeva, Timothy Roberts, Luke Street, Timo Tatzber, Jordan Michael Todd, Carla Bertran, Daniel Bowskill, Myla Carman, and Christopher Tendai.
Jesus Christ Superstar reflects on the final weeks in the life of Jesus Christ, as told through the eyes of Judas Iscariot. Timothy Sheader's production premiered at Regent's Park Open Air Theatre in 2016. It then returned to the Barbican in 2019, followed by a socially-distanced run at Regent's Park in 2020.
Featuring lyrics and music by Tim Rice and Lloyd Webber, this production features choreography by Drew McOnie, design by Tom Scutt, lighting design by Lee Curran, sound design by Nick Lidster and music supervision by Tom Deering.
Additional tour stops include Milton Keynes, Plymouth, Wolverhampton, Bradford, Nottingham, Ipswich, Cardiff, Edinburgh, Leicester, Stoke, Bromley, Inverness, Bristol, Crawley, Southampton, Norwich, Eastbourne, Birmingham, Truro, Oxford, Wimbledon, Woking, Sunderland, Canterbury, Sheffield, Llandudno, Southend, Torquay, Dartford, Cheltenham, and Blackpool, with further venues still to be announced.
Tickets for select dates are on sale below.