Matthew Bourne's Swan Lake (Tour – Bristol Hippodrome)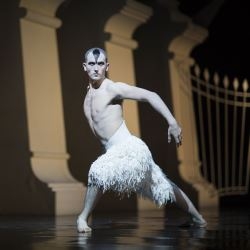 Matthew Bourne's Swan Lake swoops into the Bristol Hippodrome in its eighteenth year and on its last legs of yet another UK tour with all the vitality, wit and drama one expects of Bourne's defining work to date. Swan Lake was the show that really put Bourne and his company new adventure (previously Adventures In Motion Pictures) on the map. A multi-award winner across the world, with extended runs in the West End and Broadway, its creator has never looked back.
Updating Tchaikovsky's ballet to a world of seedy nightclubs, terrifying psych wards and grandiose fascist ball rooms, with even a little pastiche of historical ballet thrown in for good measure (an iconic design by Lez Brotherston), it is the kind of work I adore most in theatre: playful, irreverent but also respectful of its source. It may be handy to go in armed with the plot of the original to really grasp all the themes and ideas that Bourne throws into his melting pot, but the storytelling is clear enough to illuminate the work for even those most in the dark.
The plot finds the Prince (Simon Williams), bored with his life of royal function and starved of affection, discovering an erotic frisson when he comes into contact with a group of swans and their leader (Chris Trenfield). When Trenfield returns in Act 3 as the Stranger (the black swan of the original), all sexual swagger, animal magnetism and leather trousers, the Prince is aroused and repulsed in equal measure, leading to madness, a firing gun and ultimate tragedy.
The piece is of course best known for its all-male swan corps and it is interesting to see how this subverts conceptions. Gone are the female grace and fluidity, replaced by a more macho vein, helped by its naturalistic choreography that highlights the strength and aggression of these swans. In a moment that makes the hair stand up, swan after swan swoops in onto the Prince's bed until they fill the room, every sinew tensed, ready for the kill.
At the end of a long tour there are a couple of sync issues within the corps that takes away some of the magic, and Williams rather blends into the background as the Prince, while Trenfield is technically superb but maybe lacks the sheer charisma that Adam Cooper possessed in his star-making role. Anjali Mehra makes a strong impression as the girlfriend, a ditzy blonde wag who has more depth than at first appears, and Suranne Curtin brings experience and grace to the Gertrude like Queen.
It is a work that deserves its place in the upper echelons of theatre, and one doubts it will be long before it returns to our shores once again.
– Kris Hallett