Mamma Mia! (Blackpool Opera House)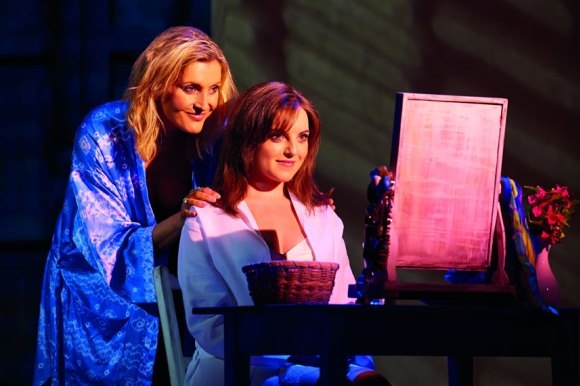 There has been, shall we say, an unprecedented brouhaha and hype about the arrival of this award winning, record breaking feel-good musical in Blackpool.
Its visit was first flagged up around 18 months ago with the result that a good many people probably feel it's already been and gone.
On the plus side it's absolutely fabulous that it's finally arrived at one of the country's biggest theatres for a 12-week summer season. On the negative side, why has it taken a little over 15 years to reach a town where, with a few tweaks of the storyline, it could have been based in the first place?
The show includes "more than 22 ABBA songs" (how many is that then – 23, 42, 57?), it's been seen by more than 54 million people worldwide, there have been more than 39 productions in 14 different languages, it has grossed more than $2bn worldwide and it's the ninth longest running show in Broadway history. You get the picture?
So what's the secret of Mamma Mia's success? Well, Catherine Johnson has created an inspired interpretation of the music and lyrics of ABBA's Benny Andersson and Bjorn Ulvaeus (with some help from Stig Anderson). She has a pantomime script writer's ability to make existing song lyrics fit a coherent storyline – albeit a flimsy one.
It's basically karaoke with a plot – or, as the programme notes say: "a mother, a daughter, three possible dads, and a trip down the aisle you'll never forget."
For this run Sara Poyzer returns to the role of single mum Donna Sheridan and she clearly still loves the role – excelling in the showstopping "The Winner Takes It All."
Geraldine Fitzgerald as faux-sophisticated Tanya and Sue Devaney as a more over the top diminutive Rosie are also well cast. Like Poyzer, Niamh Perry as Sophie Sheridan is another welcome returnee.
Richard Standing, Keiron Crook and Michael Beckley do what they can as the three possible fathers but end up pretty interchangeable. Likewise Bart Edwards as fiancé Sky is more eye candy than charismatic.
But this is a musical aimed fairly and squarely at women and a man's more feminine side. It's a jukebox musical of the highest order with surreal moments hinting at some greater potential ("Lay All Your Love On Me") and ticking all the menopausal boxes ("Does Your Mother Know?").
Is it worth 'taking a chance on? You bet it is!
Mamma Mia! runs at the Blackpool Winter Gardens until 14 September