Losing theatres impacts the whole industry, Battersea Arts Centre's return is a welcome one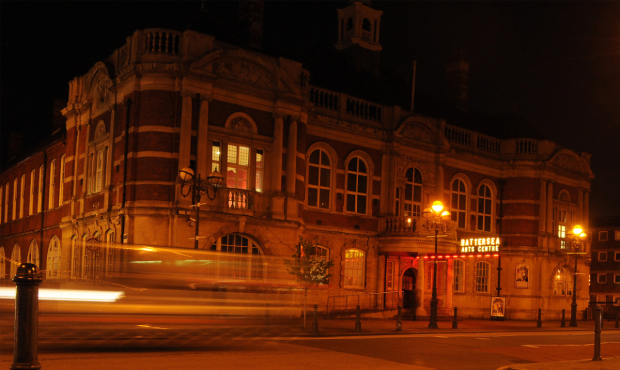 It's been three years since fire ripped through Battersea Arts Centre's Grand Hall. Funny, it feels both a long time and no time at all. I can still picture the image of orange flames chewing through the roof. I remember sitting dumbstruck at my desk; the sadness for a space that held so many fond memories; the injustice of the BAC team having to start something all over again – all that restoration lost, all that work undone. It still feels fresh, still somehow raw.
The Grand Hall allows independent, experimental artists to scale up
Those feelings hardened into something like grief – strange, still, to feel that for a building. On train journeys through Clapham Junction, I'd strain for a look at the two charred brick walls with nothing between them; medieval ruins in the middle of a modern city. Each time I passed, I'd nod their way as if at a memorial or a passing hearse. But grieving being a process of moving on, bit by bit, journey by journey, the whole thing began to blend back in to normality.
That's why it also feels quite so long ago; an age since I last stepped into the Grand Hall itself. Three years and three weeks ago I saw Song of the Goat's wailing choral song soak through the space in Songs of Lear, but it feels like a distant memory. The building remained, the performance space inside it seemed obliterated.
It re-opens in the summer, but the Grand Hall has been sorely missed. It does something nowhere else does: it allows independent, experimental artists to scale up. It's a constant complaint among small-scale theatremakers – how to push past studio theatres. Little Bulb went international when they made Orpheus for the Grand Hall. Kate Tempest jumped from there to the Roundhouse, Brixton Academy, Glastonbury.
London has lost a lot of venues in recent years. Each left a gap in the overall ecology
Since the fire, independent artists have missed that step-change, and I'm sure, amongst other things (funding cuts, included), it's caused a blockage in the overall theatrical ecology; a build-up of independent artists stuck on the small-scale, an exodus to overseas opportunities. It's fantastic, then, to see BAC back in business with a Phoenix Season that includes Bryony Kimmings' first solo show at scale, a London run (finally) for Dead Centre's demolition of Chekhov's First Play and a new piece by the emerging director Lekan Lawal. Other companies get a London home too: the National Theatre of Scotland and Gecko, so rudely interrupted by that pesky fire.
It goes to show how crucial some spaces can be. London has lost a lot of venues in recent years – thankfully, only temporarily – but each has felt like a missing piece of a jigsaw. Just as the National Theatre felt wonky while the Cottesloe transformed into the Dorfman, the loss of one space can alter the whole ecology.
The best theatres have an identity and a real sense of purpose
Touring the Tricycle a few months ago, still a building site but nearly there, I clocked how much I'd missed heading up to Kilburn. I missed, not the theatre, but the voices it programmes – more diverse than elsewhere, some of them still raw. When the Bush rebuilt its foyer, despite its off-site work, the lack of emerging playwrights and debuts made itself felt. Like the Grand Hall, both theatres do their own thing.
That's how it should be, I think. Buildings aren't bricks and mortar, it's often said, but they're not just spaces or places either. The best have an identity and a real sense of purpose – and maybe that's why losing them feels a little like grief.