Leading Ladies: Cynthia Erivo – 'I want to do everything'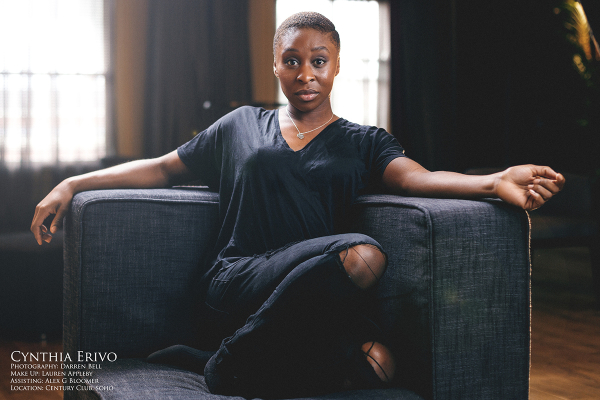 Following a string of musical roles, RADA-trained Cynthia Erivo has returned to her classical roots in the Donmar's acclaimed all-female production of Henry IV.
Relaxing in the Century Club on Shaftesbury Avenue during a break in her photoshoot with Darren Bell, Erivo lavishes praise on her current co-stars between sips of tea. Some are former inmates who trained with the charity Clean Break (the production is set in a women's prison) – and Erivo describes them as a "truly phenomenal" bunch.
"Every single one of them wants to help the other," she enthuses. "I've never felt out of place there, I always feel like someone is willing to hear what I have to say, and I'm completely willing to hear what everybody else has to say because it's always something that I don't know myself."
Henry IV has not only allowed Erivo to dust off her classical acting skills; director Phyllida Lloyd's uber-physical approach also means she's currently "fitter than I've ever been". That's no surprise considering the production sees her and her castmates – who include Dame Harriet Walter – going through a gruelling workout routine as the two filleted parts of Henry IV play out in just two hours straight.
And the Donmar, she adds, feels like a natural home – she is after all adept at playing in smaller spaces, as anyone who saw her recent performances in The Color Purple at the Menier Chocolate Factory and Dessa Rose at Trafalgar Studios will attest.
It's certainly a complete contrast to her time treading the Palladium boards in Harry Hill's ill-fated X Factor musical I Can't Sing!, which closed in May after just six weeks. I'm keen to hear her reflections on that experience. "I'd never really done broad comedy before," she tells me, "so for me it was a new experience and it was quite scary to go in and do that. But I really enjoyed being on that stage with those people – it was just laugh a minute every day."
The on stage camaraderie, however, wasn't enough to overcome the show's clear marketing flaw; despite strong reviews, it didn't seem to appeal to fans of either the X Factor or musical theatre. Erivo is admirably philosophical about it: "I think we had an amazing run, we tried our very best, everything went into it and then what happens, happens."
Plus, she points out, if I Can't Sing! hadn't closed she wouldn't have got the chance to fulfil her long-held dream of appearing at the Donmar. The life of an actor is a strange and unpredictable one indeed.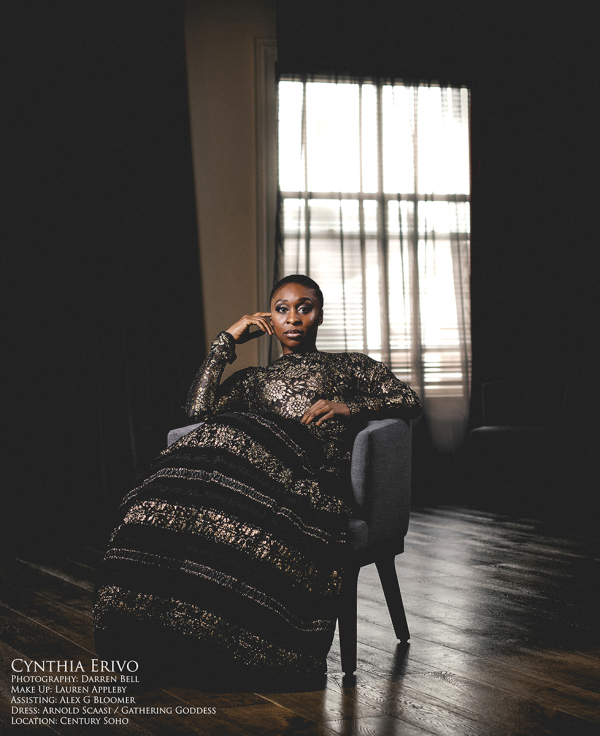 'Things in the best way got out of hand'
Our conversation turns to Erivo's route into the industry, which has seemed remarkably smooth compared to the struggles most young performers – she's just 27 – face when they leave drama school. And she only applied for RADA because a director who taught her as a teenager, Rae McKen, made her. "I thought she was joking, but then she said if I didn't sign the [audition] papers I'd always regret it," she reveals.
After winning a place – RADA was the only school she applied to – she abandoned her degree in psychology ("my heart wasn't in it") and threw herself into classical training.
When the three year course was coming to an end she hit another crossroads when the retailer she worked for to pay the bills – shirt seller Thomas Pink – offered her a senior position. "It would have been too comfortable and easy, so I said to myself, 'when you leave RADA you leave Thomas Pink', and that's what I did."
The shirt industry's loss was certainly theatre's gain. Erivo quickly found acting work, firstly in Simon Stephens' play Marine Parade, which premiered at the 2010 Brighton Festival, and John Adams' experimental 'song play' I Was Looking at the Ceiling and then I Saw the Sky at Theatre Royal Stratford East.
It was shortly after this that she got her first big musical theatre break, in Kneehigh's production of The Umbrellas of Cherbourg. "Everything just clicked," she says of this time, and when it was followed by appearances in Sister Act and then The Color Purple, she adds, "things in the best way got out of hand."
Out of hand is certainly one way of putting it. Her performance as Celie "carried the show", said the Guardian reviewer of The Color Purple, while WhatsOnStage's Michael Coveney described her as having "a singing voice that can only be the result of leather lungs soaked in honey".
Erivo says simply that the production changed her life. "It was one of those moments that I will never forget because of the people I worked with, the show itself, and how it felt. The last day when we finished that show, my heart broke."
'I would love to play Ella Fitzgerald'
We take a time out for more photos (see the gallery below) – she's dressed in an extraordinarily elegant gold-lined dress – and it's interesting to observe her naturalness in front of the camera. It prompts me to ask, after we resume, whether film work is high on her agenda for the future. "It would depend on the film," she says thoughtfully, adding surprisingly that she's "obsessed with X-Men", and "would love to do that kind of stuff".
I was expecting her to aim for Oscars in something arty and character-driven. "I reckon it would have to be a biopic," she replies. "I would love to play Ella Fitzgerald. I used to watch old videos of her performing and she has this amazing smile. And Nina Simone, if they were to ever film her story again, I would do that in a heartbeat."
Both roles are a tantalising prospect, and no doubt within her grasp. That's the thing about Erivo, she has an inner steeliness and belief that is all-too rare in actors of her age. She reaffirms this when I ask her to tell me her goals for the future, a question that usually elicits apologetic 'I'll just see where life takes me'-type answers.
"I genuinely want everything," she says starkly, eyes wide. "I want to be an artist in my own right, writing and singing my own songs, I want to be in films, and I want to be on stage both here and on Broadway."
Not a bad to-do list by anyone's measure. I ask if she would consider following Beverley Knight into Memphis, should the opportunity arise. "If I had a conversation with my agent and if everything was in place, then maybe. The songs are wonderful, and the show is beautiful." (Erivo recently sang "Memphis Lives in Me" at West End Recast). Other stage projects she'd like to do include Stephen Schwartz's musical Pippin and August Wilson's play Seven Guitars.
And what does she do in the rare moments when she's not working? "I love to knit. I sit on the couch with my needles and really go for it."
It's obvious that her confidence is due in no small part to the belief shown in her by her family. Her mother, though not a performer herself (she works as a health visitor), always supported her daughter's talent, which she spotted as young as two. She attends all of Erivo's press nights, and is clearly still a strong influence. "She encouraged me and is completely interested in what I'm doing."
Erivo's story is especially encouraging in light of the oft-heard argument that acting is becoming ever more socially exclusive (an argument I myself have made). Hers is a classic tale of talented girl made good, and one that any young performer should take heart from.
"I've had a great ride and loads of support from other people and I want to do it for me and for other people," she says. "I might as well try to keep doing the impossible."
– Cynthia Erivo was speaking to Theo Bosanquet. All photography by Darren Bell.