La Traviata (Royal Opera House)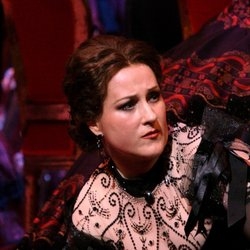 Never seemingly out of The Royal Opera's repertoire these days, having just returned for a further eleven performances, Richard Eyre's straight-laced and serviceable staging of Verdi's tale of consumptive woe has become one of the company's most dependable and bankable stagings.
For me it's all a bit Traviata-lite, and whilst there can be no doubt that it tells the story with clarity I think there's far more to Verdi's masterpiece than the glacial superficiality on offer here. Bob Crowley's designs have the veneer of opulence, but a traditional staging such as this needs a real adrenalin shot in the arm, musically speaking, in order to fire up the drama but in Dan Ettinger's restrained conducting this was sadly absent. There are many adjectives to describe Verdi's compelling music drama, but 'polite' is not one of them, yet this best sums up Ettinger's interpretation. He gave the impression that he was reining his forces in, rather than letting them of the leash, and in doing so deprived the opera of its visceral thrill.
This was a shame, as by and large this was one of the strongest casts the Royal Opera has fielded in a long time. The main focus of attention was Diana Damrau's first Violetta in the House, having sung it to great acclaim at The Met, New York (in Willy Decker's far more probing and dynamic staging) and at La Scala, Milan. She did not disappoint. Not only does she have a rock solid technique, but her early days as a coloratura soprano ensure that the high-lying reaches of the role hold no terrors for her, whilst the middle of her voice has developed in the intervening years so it is now infused with warmth and opulence, making her a near-ideal interpreter of this demanding role.
She's also a consummate actress and etched the journey from resilience to despair unerringly, and unlike some previous exponents of the role on this stage never for once played the 'Diva'. Quite rightly the audience went wild for her. Her absence from the Covent Garden stage has been too long, let's hope she returns soon.
As her lover, Alfredo, Sardinian tenor Francesco Demuro seemed a shade too small for the House in voice and personality – he sounded constrained when his voice should ring free, but he came into his own in the last act, when he and Violetta reminisce about happier times in Paris.
Dmitri Hvorostovsky returned to the role of Giorgio Germont, and gave an astonishingly assured performance – his rendition of 'Di Provenza' was an object lesson in how to sustain a Verdian line.
All in all, this was a commendable performance that just needed a bit more fire in the belly, which hopefully will come as the run progresses. Husband and wife team, Stephen Costello and Ailyn Perez take over from 6 May, so it'll be interesting to return then to see if that fire is present or not, but Damrau will be a hard act to follow.