La traviata (Glyndebourne Tour)
Although each act of
Tom Cairns
's staging of
La Traviata
(premiered at
Glyndebourne
this summer and about to go on its travels around the UK) begins with a supine Violetta stretched out on her bed in either illness or post-coital languor, sex and death remain relatively far from the surface in comparison with several other recent productions: other than fainting prettily at the act one party and exhibiting a slight over-fondness for booze, its heroine appears relatively unravaged until the final act, and the 'morning-after' idyll which opens act two is as elegant and decorous as the two party-scenes (high-kicking, slit-skirted Spanish dancers aside, Flora's soirée seems barely less respectable than the circle bar at the interval).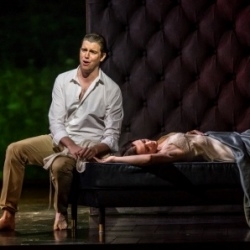 The setting is generically contemporary, with a nod to the Belle Époque in Violetta's vintage styling (ravishing designs by Hildegard Bechtler), but with nothing as gritty as we see in many such updatings.
The revival cast yields little to its forerunners. Physically and vocally slight, the Russian soprano Irina Dubrovskaya initially struck me as the kind of Violetta who'd be at her best in the relatively light, florid vocal writing of the first act rather than the more heavyweight territory of the last two (I see that Violettas and Gildas make up the bulk of her performances, and impressive agility and extreme top notes are clearly her USP). But though the voice is on the small side for the role, even in a house the modest size of Glyndebourne, it had quite enough core and focus to bring off the more dramatic moments such as her great confrontation with Germont and her ensuing outpouring of love to Alfredo, and she conveyed Violetta's fragility, neediness and isolation more than any other I've seen live.
The revelation, though, was the young American tenor Zach Borichevsky, who made an astonishingly assured company (and indeed UK) debut as Alfredo. Packing a distinctively dark-coloured, fluent lyric tenor, he turned in a performance that was not only technically flawless but also had that magical sense of complete spontaneity that comes from being in total command of the instrument. Like his compatriot and predecessor in this production, Michael Fabiano, Borichevsky gives us an unusually sympathetic Alfredo who's as yet untested but by no means a wet fish – you really believe him when he declares that he's going to sort things out in Paris once and for all – and his denunciation of Violetta at the card-tables really does appear to be done more in sorrow than in anger.
' Traviatas haven't exactly been thin on the ground of late'
As his father, Roman Burdenko exudes a gravitas of voice and bearing that belie his comparatively tender years (according to his Mariinsky biog, he's just 30); the realisation that he's intervened in a situation far more complex than he originally thought appears to come rather earlier than usual, and he sustains and develops it with conviction. Of the smaller roles, Eddie Wade's volatile silver-fox Baron and Lauren Easton's chippy, feisty Flora make their mark, as does Jerwood Young Artist Joshua Owen Mills, exuding endearing laddish camaraderie as Gaston.
Taking the baton from Mark Elder, the young German conductor David Afkham had big shoes to fill – but fill them he did, taking advantage of the relatively intimate Glyndebourne acoustic to thin the score's more diaphanous passages down to a gossamer thread but also bringing out the brasher elements of the party music with aplomb (even if this conflicted a little with the comparatively sedate revelry on stage). Traviatas haven't exactly been thin on the ground in the UK of late, but this one brings much to enjoy for seasoned Verdiphiles and novices alike.