Jesus Christ Superstar UK tour – review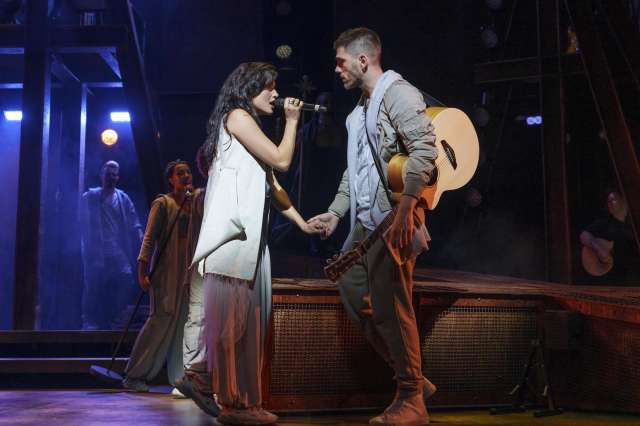 You don't have to be religious to raise an eyebrow at Andrew Lloyd Webber and Tim Rice's decision to musicalise the last days and death of Jesus Christ. But you'd have to be a hardened cynic not to reel from the music that decision results in. Timothy Sheader's production landed like theatre's miracle resurgence when it reopened the Open Air Theatre, Regent's Park in 2020. At the end of its near-pulverising two hours, the cast have thundered through the 20-plus-strong score with proselytising force.
There are almost as many genres as Bible chapters. Its electric rock base aligns with the punk aesthetic, but some of the switches jar with the drama. Jesus's occasional soul twang or jazzy motown funk feels almost parodic, while the upbeat dancing and rejoiceful hand-waving of the gospel-esque "Superstar" seems a particularly bizarre accompaniment to his crucifixion. But it unravels strikingly in a discordant cacophony as he dies, bleeding out with him.
The microphone becomes symbolic of his messianic voice. In "Gethsemane", Lee Curran uses searchlights to amplify all his whys as he implores God for answers. Ian McIntosh's solo powerfully shows surrendering of will, collapsing from clenched coiling up and folding himself over into silent kneeling, offering up the mic, after which he's passively resigned and almost never makes any sound again. McIntosh is also charismatic enough to convince you of his following and make him more than a flat martyr.
Designer Tom Scutt's costumes show a clear distinction and how the disciples counterpose the religious order, with their plain hoodies and tracksuits against the elaborate gold-trim robes of the Pharisees. However, his industrial set of rusty steel beams veers into music video, as do the clumps of glitter slung at Jesus in the 39 lashes. It's not helped by the ensemble skulking moodily with hoods up, although their use for both the disciples and then the braying mob cleverly alludes to betrayal. Shem Omari's Judas, himself, is also overly menacing and baleful with screeching whines.
If it's often hard to see how the musical works with the story, it can feel almost impossible to follow the plot. The speed and force of the sung-through musical's delivery makes you reliant on catching passing biblical references to orient yourself. Psychology is equally drowned out, while so many similarly angry songs leave you with rage as the only characterisation.
Drew McOnie's choreography can also look ill-disciplined with excessive use of the ensemble, including one lone acolyte who occasionally thrusts at Jesus or the floor for no clear reason. Theirs isn't the only gratuitous movement: every microphone stand twisted, twirled or hurled across the stage as though every prop must first be imbued with the holy spirit. The Pharisees, by contrast, have only a limited, slow and awkward routine they have to repeat on each appearance.
Its best sequences incorporate slamming, punching fists into a violent mob, or the rising and falling bodies that portray the healing of the lepers and Jesus's own magnetism. The cast, which includes Julian Clary as Herod for the initial tour dates, universally work incredibly hard, and if it's a rush of full-pelt ballads you're after, this is the answer to all your prayers.