Imelda Staunton triumphs in Gypsy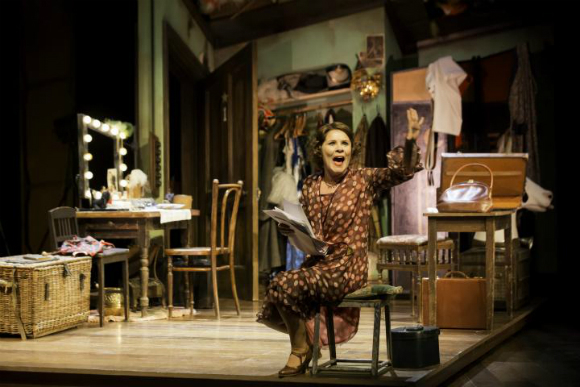 Maxwell Cooter

WhatsOnStage
★★★★
What makes Imelda Staunton's portrayal stand out is not just the way that she delivers the big numbers – although she does that with some style – but her powerful evocation of a truly driven woman… This is a psychological tour de force… Staunton also captures her vulnerability too; her big number that ends the first half, "Everything's Coming Up Roses", is less an affirmation of her optimism and more a defiant response to her mental battering… [Lara Pulver]'s transformation from the meek and submissive Louise to the provocative and teasing Gypsy Rose Lee is a slow and subtle one and Pulver handles the journey well… Gypsy doesn't have the razzmatazz and the verve of many of Chichester productions but Jonathan Kent handles the musical numbers adroitly and provides a psychological depth that few musical productions possess… Looks like Chichester has another hit on its hands.
Dominic Cavendish

Daily Telegraph
★★★★★
Imelda Staunton is a total triumph in a baggy, ballsy role she makes look tailor-fitted… Staunton takes everything in her stride… the full-throttle showstoppers ("Everything's Coming Up Roses" included), the whip-crack humour and the growing sense of isolation as she faces the blind-alley nature of ambition and pushy parenting… She bathes the character in charm even as her eyes glint in steely-minded opportunism… Kevin Whately is a bit subdued as Herbie, the family's reluctant agent and her ageing love-interest… Elsewhere, there's energy and showbiz assurance aplenty – not least from Lara Pulver as the suddenly ravishing, teasingly confident Louise and, on opening night, a hilarious Georgia Pemberton as the insufferably cute Baby June, high-kicking, cartwheeling and squealing away in pursuit of fickle adult adoration… Highly enjoyable, highly recommended.
Quentin Letts
Daily Mail
★★★★
Up to the interval, songs come thin and fast with repeated gags about dire music-hall acts. The emphasis is on the mother, Rose (here played by Imelda Staunton, fast becoming the Queen Mother of English theatre) and the pushier of the girls, June… As Rose's troupe tours America, becoming older and less successful, the production sags. An adult June takes Georgia's place and she is inevitably less cute… Much-married Rose hooks up with decent Herbie, played by Kevin Whately, who is about as American as pork pie. Nice chap, no doubt, but not a singer. When you have music by Jule Styne and lyrics by Stephen Sondheim, that is a drawback… a great closing tableau, beautifully lit. But it may all need some tightening and clearer diction before any transfer to the West End.
Michael Billington
Guardian
★★★★★
Styne's score and Sondheim's lyrics preserve a perfect balance between passion and pastiche, self-revelatory solos blending with a glorious evocation of the tackiness of American vaudeville… The first thing to say about Staunton's Momma Rose is that it is a superb piece of acting. With her piratical hat and bustling gait, Staunton captures all of the character's determined jauntiness… It is in the two big arias that close each act that Staunton shows her hand… Georgia Pemberton, one of two youngsters playing Baby June, gives an astonishingly assured display of bright-eyed precociousness… Everything about Kent's production slots perfectly into place. Anthony Ward's design uses a false proscenium arch to remind us how the characters' lives are confined by theatre… Stephen Mear's choreography, especially in the elbow-jutting "Together Wherever We Go", pays hymn to the showbiz past… Nicholas Skilbeck's pit band has a magnificent, brassy ring… We go to modern musicals seeking sensory stimulus. Gypsy shows that the form, at its best, can also be an exploration of character.
Paul Vale

The Stage
★★★★★
Having directed Sweeney Todd at Chichester in 2011, Jonathan Kent tackles the work with equal style and respect… Anthony Ward's settings celebrate the seedy glamour of a third-rate vaudeville tour, while Stephen Mear's choreography is a joy, particularly Dan Burton's moment in the spotlight as Tulsa for "All I Need is the Girl"… In a bravura performance, Imelda Staunton is a ferociously mercurial Rose, her mantra "Everything's Coming Up Roses" more a threat than resolution and the hold she has over her children verges on systematic abuse… Staunton is a thrilling actor to observe, the madness never too far from the surface and yet a deeply generous performer, allowing Kevin Whately the opportunity to develop a convincing rapport as Herbie…
Lara Pulver captures a genuine sense of stolen youth in Louis… Gypsy may not have been in West End for 40 years but with this superlative production, it would definitely have been worth the wait… This much anticipated revival proves an unqualified success and Chichester has chosen the right star for this star vehicle.