Horrible Histories: Barmy Britain (Tour – Salford)
Barmy Britain is a new Horrible Histories show produced by The Birmingham Stage Company. The show is all that fans would expect and filled with the usual amount of gore, fun and facts.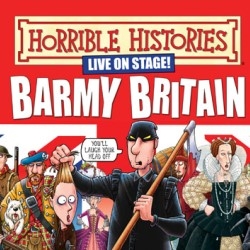 The energetic historic storytelling by the cast of four is really complimented by designer Jacqueline Trousdale's 3D animation and the "Bogglevision" 3D specs which are handed out the the audience.
This show runs through most of the craziest, larger than life characters involved in the history of Britain. First up are the Romans and then a fierce Boudicca, followed swiftly by a pack of Vikings who are looking for a new home. The show then works forward chronologically through history, through to the twentieth century and closing with the First World War.
We get to meet a petulant Henry VIII and a dithery Guy Fawkes. The show places many of the historical figures within well-known television shows and games, which encourages audience interaction. The hip hop style performance from Queen Victoria seemed to go down a treat with the audience on the night I attended the show.
What is perhaps so marvellous about the show is the fact that you really do learn quite a lot during the two hours. The show manages to squeeze in 2,000 years of British history – it's a whistle stop tour of entertainment, gore and funny facts, but it is amazing how much information you actually retain.
And The Birmingham Stage Company presents the Horrible Histories style in such an engaging and interactive way, and with the obvious focus on the nasty bits, smells and the chopping off of heads, they manage to tap into the inquisitive and active minds of the audience.
Playing to an audience consisting of predominantly children must be one of the trickiest but arguably one of the most rewarding jobs in theatre. This Horrible Histories show has a highly talented cast who play off each other and their audience with such energy and presence. Any show that manages to tap into the minds of our young historians and future creatives must be celebrated, and Barmy Britain does just that.
The show is at the Lowry until 3 May.
– Kristy Stott