Henry V (Royal Shakespeare Theatre, Stratford-Upon-Avon)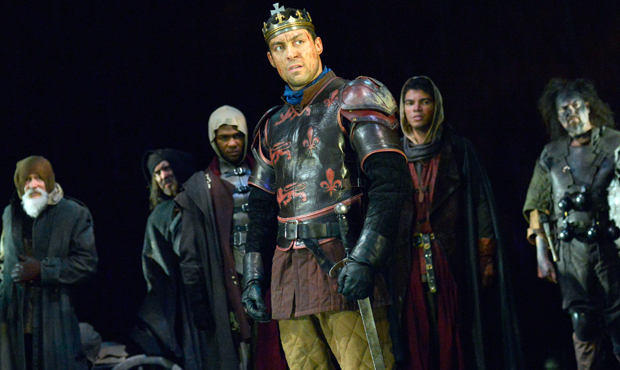 Gregory Doran's grand History cycle continues, taking Alex Hassell's Prince Hal, last seen alongside Antony Sher's rosy-cheeked Falstaff in Henry IV, into the realms of kingship. The result is a treatise on leadership that makes sense of its protagonist, but not the play as a whole.
Hassell puts a neat spin on the part. With his superhero stance and the squarest jaw in Stratford, his Henry could be a Marvel hero — Captain England, if you like. A young man thrust onto the throne, working out how to lead a country, he starts unconvincingly. Sat self-consciously on an ancient throne, all too aware of his ancestry, Hassell adopts a monarch's posture and processes every decision slowly, blinking as he thinks. What would a real king do? His head whirs left and right. He's like a kingbot: Henry 5.0.
This is the image of leadership, but not the real thing. Yelling us back into the breach, Hassell looks the part, but no-one follows him in. He's the figurehead of a raggedy nation: a mismatched rabble of reservists, the ranks rife with regional rivalries. His soldiers wear chain mail and tin helmets. There are incomprehensible Bravehearts and incompetent, butter-fingered grenadiers. The longer the war lasts, the tougher it gets, the less the head boy at the helm can hold them together.
Leadership is not an abstract quality, but a practical activity. By joining his men in disguise, Hassell's Henry learns to lead them, delivering St Crispin's Day in their midst. Doran highlights the play's pronouns: the royal 'we' that assumes it speaks for a nation, the 'we happy few' that really does. His boldest touch is in having Simon Yadoo's footsoldier follow through on a promise to land a punch on the king. No longer elevating himself above his subjects, Henry rewards him for it. It makes perfect sense.
However, in focusing on Henry as "this star of England," Doran struggles to draw the whole together. The French, in their gleaming armour, are little more than a contrast to the charred, battle-weary Brits, despite Stephen Brimson Lewis's shimmering, holographic design emphasising the similarities. Robert Gilbert's Dauphin is particularly preening and by tending towards comedy — particularly through Antony Byrne's goth-punk Pistol and Joshua Richards' drill sergeant Fluellen — Doran opts not to land any criticism of the British brutality at Avignon, nor of Henry's flagrant sexism towards Jennifer Kirby's Katherine. In fact, Hassell goes all Hugh Grant with her: just a king, standing in front of his queen, asking him to love her.
As the Chorus, Oliver Ford Davies shuffles on in a cardigan and scarf — somewhere between director, TV historian and grandpa — to set the scene, but his motif of theatre is only ever a mechanism, never a metaphor. Instead, it makes the propagandist patriotism look a bit Boys' Own Adventure — not unlike Hassell's Henry himself.
Henry V runs at the Royal Shakespeare Theatre until 25th October, after which it transfers to the Barbican.