Guest Blog: 'Live art is whispering through every crack in mainstream theatre'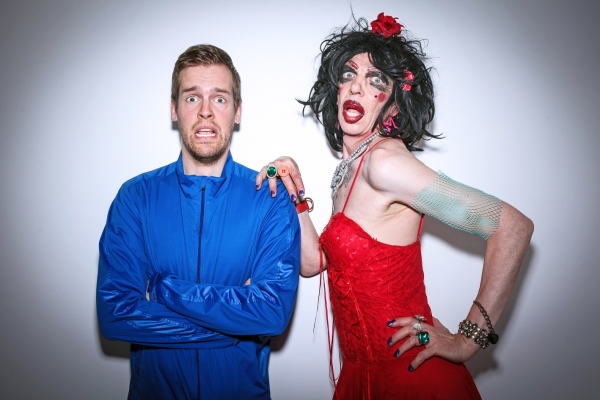 I'm doing a dangerous thing next month, directing David Hoyle as part of the
Chelsea Theatre
's SACRED season, and bringing one of London's most untameable live artists under theatre spotlights for his most intimate show yet.
Over the last few years I've moved away from theatre directing as an industry career (I started off assisting at English National Opera and the RSC), and am mainly to be found in the uncharted waters between theatre and this other thing that can include cabaret, stand-up, spoken word, dance or angry powerpoint slides. David Hoyle's new show I, Victim at the Chelsea is about learning to live with chaos and the violence of our society and not being beaten down by it. That's not easy.
I'm trying to write something about where I am and what I do. What this life is and how it speaks to the industry. And I'm finding it hard. Even though live art is at the moment whispering through every crack in mainstream theatre.
There's a recording going round and round in my head, part of the audio diary of artist and performer David Wodjnarowicz which we are playing at one of David Hoyle's other shows at his Royal Vauxhall Tavern season Illustration: "And in these moments I hate language. I hate what words are like. I hate the idea of putting these preformed gestures on the tip of my tongue or through my lips or through the inside of my mouth. Forming sounds to approximate something that's like a cyclone or that's like a flood. Something that's like a weather system that's out of control, that's dangerous, or that's alarming."
"I make theatre in the woods mostly these days"
I'm a director, and I teach, and I'm training to be a psychoanalyst: I used to say my directing was about collisions. And there is kind of a violence to the work I make with people. But really all three jobs are about being able to sit with uncertainty. It's scary. I don't know whether what I do is sustainable, or if places like the Chelsea Theatre and the Royal Vauxhall Tavern will be stamped out in time to build posh flats. Whether, like David Wojnarowicz, the future for people like me is tiny bedsits, hospital wards. Whether you'd rather watch ITV, dear reader, than break bread with a cyclone.
But there is something really thrilling about this place I'm in. I loved working for ENO (whispering "Cold and wet! Cold and wet!" to a chorus of 60 flood survivors waiting in the wings; timetabling shoe fittings – I loved timetabling shoe fittings). Or actors throwing their lunch at me on film sets. But this place right now…
"In the middle of the journey of our life", wrote Dante (I try not to think of Dante's ratty bar on the edge of the gay village in Manchester), "I came to myself, within a dark wood where the straight road was lost." I make theatre in the woods mostly these days. And I couldn't be happier.
I, Victim is at Chelsea Theatre from 21 to 22 November 2014. The SACRED season runs from 21-29 November. For more information click here.