Great Expectations at the Royal Exchange – review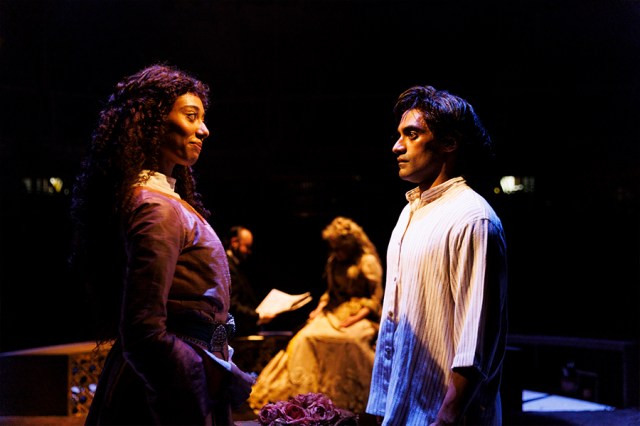 This is far from the first time Dickens's story about changing identity and casting yourself anew has shown its own capacity for reinvention. But it is one of the most radical. The hit of incense immediately signals that playwright Tanika Gupta has relocated orphan Pip's – now Pipli – story from London to Bombay.
The themes stemming from his attempted social climbing run through Rosa Maggiora's set. The mahogany-brown floor reminds us of his friend's metaphor that "no varnish can hide the grain of wood", while a huge gate imposes class partitions. Where Dickens uses the Thames as a symbolic artery that tethers Pip back to his village origins, the river Padwa encircles him here. However, this lush landscape of verdant reeds and glistening water is presented as a bleak destitution he's desperate to escape.
His sister's toughness, which bullies him out the house, is also completely overridden by his fiercely caring uncle. Once he's out, we get little sense of Pipli's transformation from Esh Alladi, but Maggiora's costume design shows a young boy swallowed by gentility with layers of shirts, waistcoats and blazers.
Maggiora heaps Catherine Russell's Miss Havisham in grey lace, as though the jilted spinster is turning to ash, while Russell stoops like she's weighed down by dust and sinking into the earth. She strikingly conveys how she's frozen in time just as Pipli is frozen in status, while the chill to her voice and stoniness to her face give her a capricious flammability before she brushes any candle.
Gupta smartly parallels coarseness and refinement with the Indians' rough fabrics or the silky cotton made by the British. But she confuses the story by doubling the prejudices to concern race as well as class. They might be interrelated, but they compete here as arguments she tries to sound at the same time.
Pipli becomes less Havisham's social mobility experiment and more a simple punchbag for her racist spite. Her confession to oppressing Indians, rather than men, dislocates her motivation from her fiancée Compeyson's betrayal. It also overcomplicates her relationship with Estella, vacillating between her colonialist impulses to "destroy the Indian in her" and avenging herself by "making her a lady men will desire but never gain".
Pipli's motivation of impressing Estella is similarly stretched to implausibility. Whereas her snobbery in the novel could feasibly drive him to become a gentleman as a solution, here she defines her contempt explicitly in terms of his skin colour, so it seems inconceivable for him to see overcoming that (let alone such an affront) as achievable.
Pooja Ghai's production isn't sinister enough elsewhere. Andrew French and Reginald Edwards lack ferality and menace as the escaped convicts, Malik and Compeyson; their violent feud rendered more of a tertiary squabble. Stephen Fewell's Jaggers, who's supposed to embody the threat, survivalism and ruthlessness of the city, is an almost dandified dogsbody instead of ominously inscrutable.
But Alladi strikingly reminds us of Pipli's humble beginnings and naivety. His eyes wide with startled awe or inquisitive hunger. Scampering across the stage like the stone he skims over the river at the start. It may not be a truly great adaptation, but this moment distils the heart of the novel: a young man who only ever skates the surface of his ambitions.