Full list of 2016 Olivier Award winners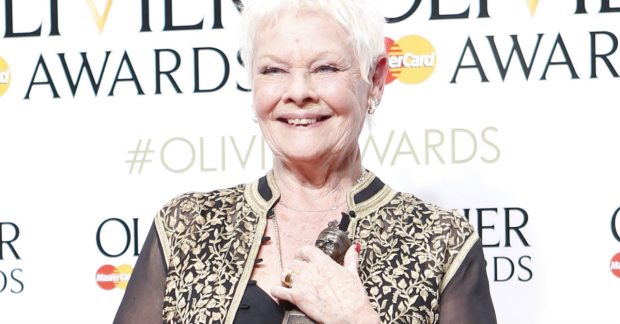 The winners of the 40th Olivier Awards were announced this evening at the Royal Opera House, in a ceremony hosted by Michael Ball.
Gypsy led the awards with four wins including for its leading ladies Imelda Staunton and Lara Pulver. It beat competition from Guys and Dolls and Seven Brides for Seven Brothers – both of which performed during the ceremony – to claim Best New Musical.
The National Theatre enjoyed a successful evening, receiving four awards for its productions including Best Revival for Ma Rainey's Black Bottom, Mark Gatiss securing Best Actor in a Supporting Role for Three Days in the Country, and Tom Gibbons winning Best Sound Design for People, Places and Things.
Denise Gough won Best Actress for her role in the National's People, Places and Things with Kenneth Cranham winning Best Actor for his performance in The Father at Wyndham's Theatre.
Judi Dench surpassed any other performer in Olivier history to win her eighth award, this year for Best Actress in a Supporting Role for The Winter's Tale.
Other winners included Kinky Boots for Best New Musical and Best Costume Design (Gregg Barnes), Showstopper! The Improvised Musical for Best Entertainment and Family, The Phantom of the Opera won the Magic Radio Audience Award and Pat Kinevane and Fishamble for Silent at Soho Theatre for Outstanding Achievement in an Affiliate Theatre.
Find the full list of winners below (winners in bold):
Best New Musical
Kinky Boots at Adelphi Theatre
Bend It Like Beckham at Phoenix Theatre
In The Heights at King's Cross Theatre
Mrs Henderson Presents at Noel Coward Theatre

Best Musical Revival
Gypsy at Savoy Theatre
Bugsy Malone at Lyric Hammersmith
Guys and Dolls at Savoy Theatre
Seven Brides For Seven Brothers at Regent's Park Open Air Theatre

Best Actor in a Musical
Matt Henry for Kinky Boots at Adelphi Theatre
Ian Bartholomew for Mrs Henderson Presents at Noel Coward Theatre
Killian Donnelly for Kinky Boots at Adelphi Theatre
David Haig for Guys and Dolls at Savoy Theatre
Jamie Parker for Guys and Dolls at Savoy Theatre

Best Actress in a Musical
Imelda Staunton for Gypsy at Savoy Theatre
Tracie Bennett for Mrs Henderson Presents at Noel Coward Theatre
Natalie Dew for Bend It Like Beckham at Phoenix Theatre
Laura Pitt-Pulford for Seven Brides For Seven Brothers at Regent's Park Open Air Theatre
Sophie Thompson for Guys and Dolls at Savoy Theatre

Best Actor in a Supporting Role in a Musical
David Bedella for In The Heights at King's Cross Theatre
Dan Burton for Gypsy at Savoy Theatre
Peter Davison for Gypsy at Savoy Theatre
Gavin Spokes for Guys and Dolls at Savoy Theatre

Best Actress in a Supporting Role in a Musical
Lara Pulver for Gypsy at Savoy Theatre
Preeya Kalidas for Bend It Like Beckham at Phoenix Theatre
Amy Lennox for Kinky Boots at Adelphi Theatre
Emma Williams for Mrs Henderson Presents at Noël Coward Theatre

Best New Play
Hangmen at Jerwood Theatre Downstairs at the Royal Court and Wyndham's Theatre
Farinelli And The King at Duke of York's Theatre
The Father at Wyndham's Theatre
People, Places And Things at National Theatre, Dorfman

Best Actor
Kenneth Cranham for The Father at Wyndham's Theatre
Kenneth Branagh for The Winter's Tale at Garrick Theatre
Benedict Cumberbatch for Hamlet at Barbican Theatre
Adrian Lester for Red Velvet at Garrick Theatre
Mark Rylance for Farinelli and the King at Duke of York's Theatre

Best Actress
Denise Gough for People, Places And Things at National Theatre, Dorfman
Gemma Arterton for Nell Gwynn at Apollo Theatre
Nicole Kidman for Photograph 51 at Noël Coward Theatre
Janet McTeer for Les Liaisons Dangereuses at Donmar Warehouse
Lia Williams for Oresteia at Almeida Theatre

Best Actor in a Supporting Role
Mark Gatiss for Three Days In The Country at National Theatre, Lyttelton
Michael Pennington for The Winter's Tale at Garrick Theatre
Tom Sturridge for American Buffalo at Wyndham's Theatre
David Suchet for The Importance Of Being Earnest at Vaudeville Theatre

Best Actress in a Supporting Role
Judi Dench for The Winter's Tale at Garrick Theatre
Michele Dotrice for Nell Gwynn at Apollo Theatre
Melody Grove for Farinelli And The King at Duke of York's Theatre
Catherine Steadman for Oppenheimer at Vaudeville Theatre

Best Revival
Ma Rainey's Black Bottom at National Theatre, Lyttelton
Hamlet at Barbican Theatre
Les Liaisons Dangereuses at Donmar Warehouse
The Winter's Tale at Garrick Theatre

Best New Comedy
Nell Gwynn at Apollo Theatre
A Christmas Carol at Noël Coward Theatre
Hand To God at Vaudeville Theatre
Peter Pan Goes Wrong at Apollo Theatre

Best Director
Robert Icke for Oresteia at Almeida Theatre
Rob Ashford and Kenneth Branagh for The Winter's Tale at Garrick Theatre
Matthew Dunster for Hangmen at Jerwood Theatre Downstairs at Royal Court and Wyndham's Theatre
Jonathan Kent for Gypsy at Savoy Theatre

Best Entertainment and Family
Showstopper! The Improvised Musical at Apollo Theatre
Alice's Adventures Underground at The Vaults
Dr. Seuss's The Lorax at The Old Vic
I Want My Hat Back at National Theatre, Temporary Theatre
Peter Pan at Regent's Park Open Air Theatre

Outstanding Achievement in an Affiliate Theatre
Pat Kinevane and Fishamble for Silent at Soho Theatre
Barbarians at The Clare, Young Vic
Phil Dunster for his role in Pink Mist at Bush Theatre
Violence And Son at Jerwood Theatre Upstairs at the Royal Court

Best Theatre Choreographer
Drew McOnie for In The Heights at King's Cross Theatre
Carlos Acosta and Andrew Wright for Guys and Dolls at Savoy Theatre
Stephen Mear for Gypsy at Savoy Theatre
Jerry Mitchell for Kinky Boots at Adelphi Theatre

Outstanding Achievement in Music
In The Heights – Music and Lyrics by Lin-Manuel Miranda at King's Cross Theatre
Bend It Like Beckham – Music by Howard Goodall, Lyrics by Charles Hart and Orchestrations by Howard Goodall and Kuljit Bhamra at Phoenix Theatre
Farinelli And The King – Claire van Kampen for Musical Arrangements, the Musicians and Iestyn Davies and the Singers who alternated the singing role of Farinelli at Duke of York's Theatre
Kinky Boots – Music and Lyrics by Cyndi Lauper, Music Supervision, Arrangements and Orchestrations by Stephen Oremus at Adelphi Theatre

Best Lighting Design
Mark Henderson for Gypsy at Savoy Theatre
Neil Austin for The Winter's Tale at Garrick Theatre
Natasha Chivers for Oresteia at Almeida Theatre
James Farncombe for People, Places And Things at National Theatre, Dorfman

Best Sound Design
Tom Gibbons for People, Places And Things at National Theatre, Dorfman
George Dennis for The Homecoming at Trafalgar Studios 1
Christopher Shutt for The Father at Wyndham's Theatre
Christopher Shutt for Hamlet at Barbican Theatre

Best Costume Design
Gregg Barnes for Kinky Boots at Adelphi Theatre
Hugh Durrant for Nell Gwynn at Apollo Theatre
Jonathan Fensom for Farinelli And The King at Duke of York's Theatre
Katrina Lindsay for Bend It Like Beckham at Phoenix Theatre

Best Set Design
Anna Fleischle for Hangmen at Jerwood Theatre Downstairs at the Royal Court and Wyndham's Theatre
Hildegard Bechtler for Oresteia at Almeida Theatre
Es Devlin for Hamlet at Barbican Theatre
Jonathan Fensom for Farinelli And The King at Duke of York's Theatre

Best New Opera Production
Cavalleria Rusticana/Pagliacci at Royal Opera House
The Force Of Destiny at London Coliseum
Morgen Und Abend at Royal Opera House

Outstanding Achievement in Opera
English National Opera Chorus and Orchestra for The Force Of Destiny, Lady Macbeth Of Mtsensk and The Queen Of Spades at London Coliseum
Felicity Palmer for The Queen Of Spades at London Coliseum
Sir Antonio Pappano for his conducting of Cavalleria Rusticana/Pagliacci, Guillaume Tell and Król Roger at Royal Opera House
Tamara Wilson for The Force Of Destiny at London Coliseum

Best New Dance Production
Woolf Works by Wayne McGregor at Royal Opera House
He Who Falls (Celui Qui Tombe) by Compagnie Yoann Bourgeois at the Barbican
Romeo Et Juliette by Les Ballets de Monte Carlo at London Coliseum

Outstanding Achievement in Dance
Alessandra Ferri for her performances in Chéri and Woolf Works at Royal Opera House
Javier De Frutos for his choreography of Anatomy Of A Passing Cloud at the Linbury Studio Theatre, Royal Opera House
Sasha Waltz for her choreography of Sacre at Sadler's Wells