Freeze (Theatre Royal, Plymouth)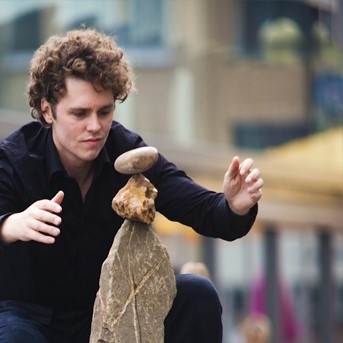 Nick Steur's one-man show creates a dilemma – what is performance art, what is a celebration of skill and what is theatre?
Freeze – and boy did we on the windy terrace – is a short demo of Steur's rock stacking dexterity.
There is no doubt that the young Dutchman's ability is quite breathtaking – sundry rocks are piled up with intense concentration making quite beautiful pieces which we would perhaps not appreciate if displayed as pieces of art (suspecting the whole to be held together with glue) – but I almost felt a voyeur intruding on a private communication between man and stone.
And the half hour ran slow enlivened a little by the wind blowing over a couple of 'installations' shattering the mirrored glass cubes upon which they stood.
I can't work out what the noisy fan was for and found the monotonous voice-over somewhat irritating adding neither explanation nor enlightenment but more a pretentious, distracting nod to theatre.
I would have enjoyed this more I think without the commentary and in the warmth of the bar with a g+t in hand.
– Karen Bussell