Everybody's Talking About Jamie unveils complete tour cast including Giovanna Fletcher, Kevin Clifton and Sam Bailey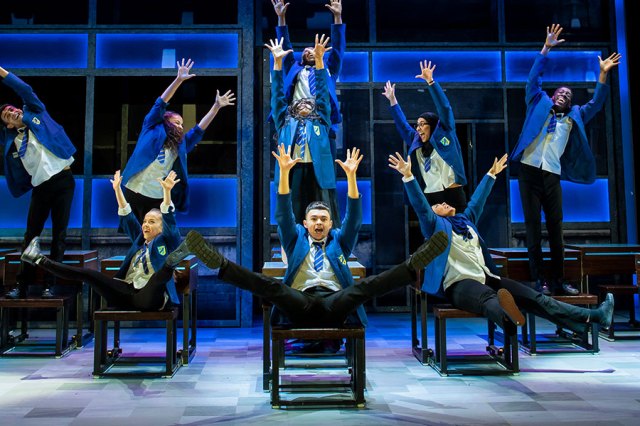 Complete casting has now been unveiled for the new tour of Everybody's Talking About Jamie, which commences this autumn.
As already confirmed, Ivano Turco will lead the tour in the title role, with Rebecca McKinnis (Dear Evan Hansen) as Margaret New,  Shobna Gulati (The Rise and Fall of Little Voice) as Ray and Talia Palamathanan (Everybody's Talking About Jamie tour and film) as Pritti.
Strictly Come Dancing professional and series 16 winner Kevin Clifton will play Hugo/Loco Chanelle from 25 March to 15 July 2024, while author, podcast host and I'm a Celebrity Get Me Out Of Here winner Giovanna Fletcher will play Miss Hedge from 8 January  to  23 March 2024 (after Hayley Tamaddon completes her run in the show) with X-Factor winner Sam Bailey taking over the role of Miss Hedge from 25 March to 15 July 2024. John Partridge will take on the role of Hugo/Loco Chanelle this autumn.
Completing the cast for the 2023 to 2024 UK tour are KY Kelly, aka Anthony Gyde (Laika Virgin), Garry Lee (Sandra Bollock), David McNair(Tray Sophisticay), Akshay St Clair (Dad), Jordan Ricketts (Dean), Liv Ashman (Vicki), Rhiannon Bacchus (Fatimah), Geoff Berrisford (Sayid), Jessica Daugirda (Bex), Finton Flynn (Young Loco Chanelle / Jamie New cover), Annabelle Laing (Becca), Luca Moscardini (Levi), Joshian Omana (Cy), Thomas Walton (Mickey), Takayiah Bailey (Swing) and Georgina Hagen (Understudy Margaret / Ray / Miss Hedge).
 Clifton said "I'm really excited to be joining the UK tour of Everybody's Talking About Jamie after being involved in the movie. It's inspiring, uplifting and infectious and I can't wait to jump into Hugo/Loco Chanelle's heels across the country. I'm proud to be part of a show that carries such an important message and celebrates everyone for who they are."
Fletcher added: "Everybody's Talking About Jamie is a wonderful show. Not only does it have great music, dance and humour, it also has masses of heart. The story is a universal tale of courage and acceptance, and one I can't wait to help bring to life. I'm thrilled to get back on stage with such a talented cast and look forward to audiences across the UK falling in love with this show."
Bailey continued: "I'm so excited to be joining the cast of Everybody's Talking About Jamie on tour! As an actress it's just a dream to be playing an amazing role like Miss Hedge, and to be part of a show that has such a heartfelt and positive message."
After a successful three-year residency in London's West End and a sold-out UK and Ireland tour, the show will now open at The Lowry on 7 September 2023 before traveling to other cities across the UK.
Featuring an original score of catchy pop tunes by Dan Gillespie Sells, lead singer-songwriter of The Feeling, and a book by writer Tom MacRae, the production is choreographed by Kate Prince and directed by Matt Ryan from original direction by Jonathan Butterell. The design is by Anna Fleischle, while lighting design is provided by Lucy Carter, with sound design by Paul Groothuis. Video design is handled by Luke Halls, and casting by Will Burton. Theo Jamieson will serve as the musical supervisor.