Crazy for You in the West End – review
The first act curtain of Crazy for You comes down on a dance routine that brings the audience to its feet. To the joyful sound of George and Ira Gershwin's "I've Got Rhythm", it begins with a man banging two cups together. He's joined by another hitting an axe with a hammer, then a third, blowing into a jug.
A chorus line of tapping girls appears; so do washboards, corrugated roofs, and saws.  As it grows, with irresistible momentum, the men make panning trays bounce to the beat of their feet and swing the women on wooden picks like pendulums. Every detail has its own place in a structure that feels at once spontaneous and yet perfectly planned.
This was the dance routine that turned Susan Stroman into a star; she won her first Tony for choreography when the show (directed by her late husband Mike Ockrent) premiered on Broadway in 1992.  She's added director to her credits for this 2022 revival, originally seen at the Chichester Festival Theatre, but it's still her choreography that feels like genius. It's just bliss.
In the very best sense, Crazy for You is a dance show.  It's not that it hasn't got fabulous, melting songs – drawn from a 1930 Gershwin show called Girl Crazy with a few standards and a few lesser known numbers added.  It's got a witty, smart book too, written by Ken Ludwig, and full of jokes both cheesy and wry.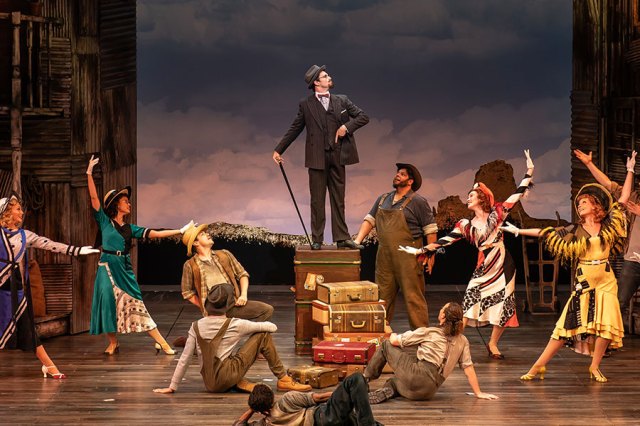 They propel the action through a wafer thin plot about a disenchanted banker Bobby Child, who dreams of being a dancer who gets a chance to make his dreams reality when he is dispatched to close a theatre in Deadrock, Nevada – "the armpit of the American West" – and instead falls for local girl Polly, and attempts to stage a show to save the theatre, and win her heart.
Yet for all its cleverness and charm, Crazy for You swings into most vivid life when the characters dance. Each routine has its own flavour, whether it's the elongated lines and pure, lovely expressiveness of the first moment Bobby and Polly kiss to "Shall We Dance?", or the delirious wonder of "Slap That Bass" where you watch a dance built in front of your eyes, or simply the moment the chorus line taps its way into view, silhouetted against the pink sky of Beowulf Boritt's set, washed with mood-setting colour by Ken Billington's lights.
It's so inventive, so beautifully judged.  It's also exceptionally performed by Charlie Stemp as Bobby, who combines a gift for wonderful, prat-falling physical comedy, with light, insouciant grace, and percussively accurate feet.  Whether sliding drunk down a staircase, sweeping his girl off her feet, or extending his legs and his heart in a longing-filled solo, he makes every step count.
He's matched by Carly Anderson who brings spirit and soul to Polly, a woman who knows her own mind and is humiliated when – by means too tiring to explain – she feels she has been tricked into falling for the wrong man.  She makes ballads such as "But Not for Me" resound with feeling, but her performance also has an appealing lightness.
The whole evening is full of joy. Tom Edden is a comic pleasure as the impresario Bella Zangler, particularly in the scene where he and Bobby (for reasons once again too complicated to explain) are dressed identically and drunkenly mirror each other's movements; Kayleigh Thadani makes the most of dance captain Tess, while Natalie Kassanga, as Bobby's much-ignored fiancée, is absolutely terrific when she sets about capturing a different partner in a slinky "Naughty Baby".
As for the chorus, each and every one of them is superb, making an impact through through their ability to make every moment of Stroman's dancing magic pure, irresistible fun.