Companion Piece (Pleasance Theatre)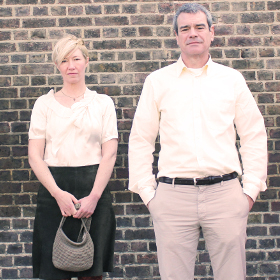 Concorde Theatre Company is a transatlantic theatre exchange bringing new American writing to the UK and taking new British writing to the US. This is its first production on this side of the pond.
Leonard (Mark Arnold) opens the play in a stark utilitarian apartment, putting on a tie whilst chatting cheerfully but one-sidedly to offstage Rosemary. Her relationship to him is undefined (Room-mate? Wife? Pet?). He seems an endearing character: warm, a little goofy, in his middle years. He runs a computer repair business from home; he's not a high achiever but he appears content. Then surprise number one happens: a woman arrives on the doorstep – she's pretty, nervy and gushing. This is Dolores; she and Leonard met some time ago on an internet forum and have been bonding online and in late night phone calls ever since. Tonight is their first meeting in the flesh.
We forget about the mystery room-mate and become involved in what looks like a promising relationship between Leonard and Dolores. They have so much in common: both are geeky and gauche, both excessively tickled by the everyday behaviour of her cat, Henry. But it doesn't take long for the path of true love to encounter a significant obstacle.
The first half of Companion Piece is absorbing and sparky. An appearance by Leonard's old friend, Kip (a compelling John Schwab) shows us another kind of male: married with young child, but too restless, prowling and sexually charged to settle down properly. Leonard is mild and fearful in comparison, yet both men, it transpires, have trouble doing the decent thing.
Armento sets us up to expect a thorough examination of sexual differences and modern relationships. After the interval, however, in spite of a sweet portrayal of Rosemary by Erin Hunter, he does not deliver the goods. The companion piece of the title lacks novelty, and the play ultimately smacks too much of Neil la Bute (whose plays featuring sexual shock-tactics belong to a past decade).
That said, the piece clips along and accomplished acting and direction (by Abbie Lucas) keep it buoyant. It's a conversation-stimulating show, and a creditable debut by Concorde whom one would hope to go on to even more exciting things.