Britannia Waves the Rules (Royal Exchange Theatre)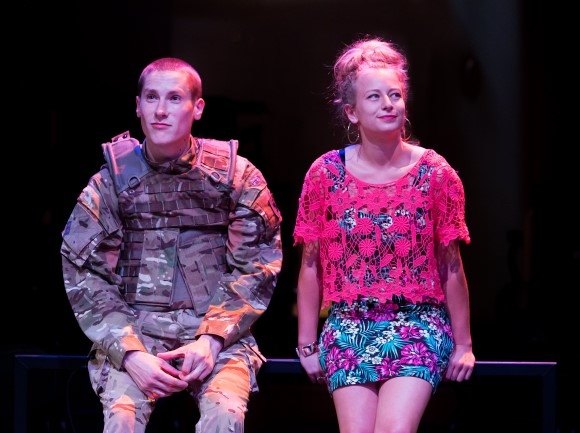 The Royal Exchange welcomes Gareth Farr's Bruntwood Competition winning play in repertoire with Simon Armitage's The Last Days of Troy.
Both pieces look at men going off to war in two contrasting periods of history but in this piece; the story is told by Carl; a young man from Blackpool who decided to sign up to the forces to see the world and make something of himself.
From a single parent family in the once thriving seaside resort; Carl knows he needs to leave to make something of himself. He writes poetry but is uncomfortable with being known for this and shows he has a sensitive side as well as a temper that he needs to control.
Carl does get to see the world as promised by the forces but at what cost? The ugly realisation that all is not fair in love and war as profound impact that changes him forever.
Dan Parr is a real tour de force as Carl. He maintains an intensity throughout that drags the audience along with this harrowing yet in parts amusing tale. With fantastic support from Simon Harrison, Colin Tierney, Francesca Zoutewelle and Clare Calbratih; Parr is able to make Carl seen real and accessible without feeling too scripted.
Expertly directed by Nick Bagnall the show has a real ebb and flow and suits the setting of the Royal Exchange perfectly. The lighting by Chris Davey at first glance seems simplistic but is key in setting the mood for the different experiences in the protagonist's s life.
This is a gritty, well researched and well preformed piece that is a worthy prize winner. You cannot help but feel an emotional attachment to the main character and you will leave the auditorium with a deepened respect for our forces personnel; having lived every minute of this 90 minute piece with each of the cast.
This is a strong production that you cannot help but appreciate.
Britannia Waves the Rules is at the Royal Exchange Theatre until 7 June.