BRB's Beauty and the Beast returns to Lowry, 10 years after Northern debut
The Lowry's partner company, Birmingham Royal Ballet, return to their home in the North next month with David Bintley's adaptation of a classic fairytale, which first toured to The Lowry 10 years ago.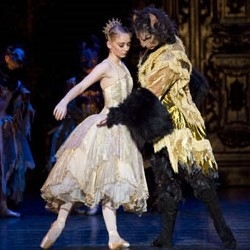 Beauty and The Beast, then a brand new ballet created by David Bintley with an original score specially commissioned from composer Glenn Buhr, premiered at the company's home theatre The Birmingham Hippodrome in December 2003, before embarking on a UK tour which opened at The Lowry in January 2004.
Next year Birmingham Royal Ballet celebrate their 25th birthday as a company and David Bintley's 20th anniversary as Artistic Director.
A gothic fairytale from the creator of Birmingham Royal Ballet's Cinderella, Aladdin and The Prince of the Pagodas, Beauty and the Beast also features two company dancers from the North West; First Artist Yvette Knight from Lancaster and James Barton from Birkenhead.
In this ballet, a beautiful girl, a hideous beast, a golden ballroom full of animals, two outrageously haughty sisters and a grumpy grandmother dance through Philip Prowse's storybook set of forests and castles.
Glenn Buhr's original score is played live by the Royal Ballet Sinfonia, alongside David Bintley's choreography.
Birmingham Royal Ballet's Beauty and the Beast is at the Lowry from 24 – 27 September.