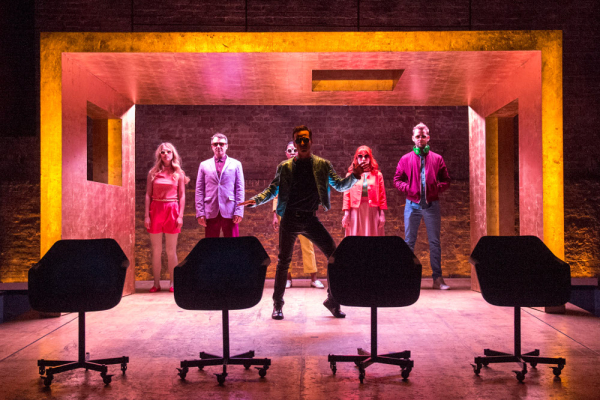 Playwright Simon Stephens once played in a punk rock band, so he has an idea of the life of rock musicians on the road, unmoored from their backgrounds, family and any sense of moral or indeed material responsibility. Carrie Cracknell's smart production, and Andrew Scott's mesmerising lead performance, create a world both repellent and seductive in this glittering moral fable for our celebrity-obsessed times.
The stark, dream-like play takes its title from a weird, hallucinatory song by Patti Smith which might be about losing your mind, and your father. But it also reeks of Brecht's first play Baal, an expressionist odyssey of a destructive poet (once appropriated by David Bowie) and an obvious precursor of Stephens's feckless, slippery Paul in his satin vests and vicuna jackets.
Paul (Andrew Scott) is a musician of world renown, touring the great cities with a band (whom we never see or hear) and his best friend, the guitarist Johnny (Alex Price), ordering ridiculous meals on room service (hot and cold trout roe tempura anyone?), taking cocaine in his eye drops, visiting Moscow brothels, giving interviews, humiliating fans including the boy who's come to Berlin from Dundee because the ticket is cheaper there.
Scott, who comes trailing his own newfound fame as Moriarty on television, pulls off the brilliant trick of being totally dead behind the eyes and fascinating at the same time, an appalling creature who's both totem and symptom. In short, sawn-off scenes, we see him in Moscow, Berlin and Paris – Ian MacNeil's design is minimalist, using blue chairs, coloured lights, a mobile false proscenium – with Johnny, a waitress (Nikki Amuka-Bird) who brings a peach on a salver and is whisked off to the next gig, a journalist (Charlotte Randle) who thinks his best work is behind him and a manager (Daniel Cerqueira) who covers up where he can.
The mistake Paul makes is sleeping with his best friend's fiancée, Marnie (Yolanda Kettle) and this has ruinous consequences all round. Jenny the waitress (a really lovely performance by Amuka-Bird) is appalled, and the action slyly spirals down to nemesis in London where, before a concert at the O2 Arena, Paul meets his father (Cerqueira again) who has borrowed money for a broken boiler from the internet.
Suddenly, he loses everything at the very point where he realises what he's lost in real terms. His past returns to haunt him, and he defies reality still in the sense of his own immortality. I admire the detail in the writing – the sponsors in Paris full of meeting Johnny Hallyday, the visit to Marnie's parents where he asks for a bigger brandy, the news of a four-star review in his local rag at home – but the apparent slickness of the play carries a strong poetic resonance, too, and stands alongside the very best of Stephens's output to date.