Betty Blue Eyes (Tour – Colchester)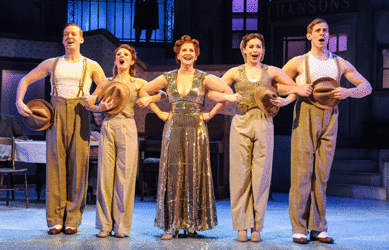 For this new touring production of Betty Blue Eyes, composer George Stiles and lyricist Anthony Drewe have tweaked Ron Cowen and Daniel Lipman's book, which was based on Alan Bennett's script for the film A Private Function.
Director Daniel Buckroyd has assembled a cast which can not only act, sing and dance but also play the instrumental accompaniment on and off stage. Choreographer Andrew Wright has devised some energetic and nifty footwork for number ranging from the fantasy sequence of "Nobody" to the wartime dance-hall sequence.
Puppet mistress Sarah Wright's contribution is equally important – you're going to have to see the show to find out just what this is, as I'm not going to tell you – and designer Sara Perks has provided costumes and a flexible set cleverly detailed for the 1947 setting of the story.
Even if you don't personally remember wartime and post-war austerity and rationing, "Fair Shares For All", with its not-so-patient queue outside the butcher's shop, draws you into its period.
There are some extremely good voices in this cast – Jenni Bowden, Rachel Knowles and Kate Robson-Stuart are particularly effective in their "Magic Hands" first act trio.
The central characters are mild-mannered chiropodist Gilbert Chivers and his wife Joyce. Hayden Oakley, looking not unlike Bennett himself from time to time, makes "A Place on the Parade" and "The Kind of Man I Am" encapsulate the whole essence of Gilbert.
Amy Booth-Steel is equally effective as Joyce, making sure that her husband will be properly recognised for his professionalism while coping with her elderly mother, who lives with them.
Sally Mates ensures that this particular mother-in-law cannot be ignored. Tobias Beer in "Upholding the Law" and "Since the War" makes it clear that Wormold (the inspector from the Ministry of Food) is indeed a force with whom the townsfolk have to reckon.
Chief among these are Kit Benjamin as Dr Swaby, Adam C Booth as Lockwood, Matt Harrop as Allardyce and Anthony Ray as Sutcliffe. This scheming social clique has hatched a plan to celebrate the year's Royal Wedding. It is to be indeed a very private function, though excluding the Chivers is going to be one of its less clever angles.
Another is our titular character, to whom the first-night audience in Colchester obviously lost its collective heart. I must admit that I did so too. Full marks to Lauren Logan and to Sarah Wright for that.
Betty Blue Eyes is at the Mercury Theatre, Colchester until 5 April and then tours nationally until 2 August.