Beautiful Thing at Theatre Royal Stratford East – review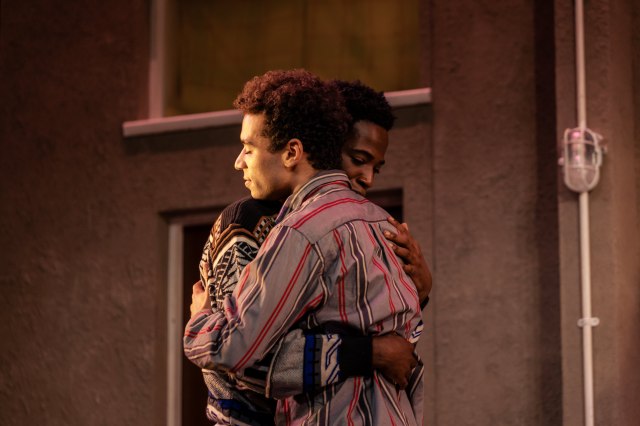 Jonathan Harvey's coming-of-age and coming out play was first seen 30 years ago at London's Bush Theatre. The AIDS crisis of the '80s was still looming fearfully in the minds of society at large and the hideous Section 28 was still alive and well. Harvey's story of teenage boys discovering love together in their Sarf-London concrete tower block was both unique in its bravery and unusual in its tender portrayal of a gay relationship at that time. Thankfully, times are much changed, and although society clearly still has work to do in terms of acceptance, Harvey's words now lack the punch that they held three decades back in a far less understanding world.
Three flats sit side by side on a tower block balcony. Ste is a rugged sports-loving 16-year-old who lives with his abusive alcoholic father. Jamie is the same age and is a quietly affectionate boy who lives with his hardworking and indomitably vocal mother. Leah is a Mama Cass fanatic and a loudmouth who is avoiding school and is wracked with as many insecurities as one teenager can handle. It's only Jamie's mother, Sandra, who is written into proceedings and along with her comes boyfriend Tony, a well-spoken artist whose desperation to be liked and accepted crosses into neediness and annoyance.
Eventually, circumstances bring Ste and Jamie together in a way that is different to their schoolfriend relationship, and their predictable love story begins with what can only be described as an impressively rapid acceptance from those around them. Whilst all of these characters are colourful enough, Harvey uses such broad strokes with which to create them that there is little emotional depth. More importantly, there is no real interrogation of the issues in Harvey's writing and 30 years on, it all feels a little too soap opera to really be able to get under the skin.
Anthony Simpson-Pike's direction leans into the same broad strokes, and he creates characters that distract from the real drama and the main source of emotional capture. Shvorne Marks brings the boisterous Sandra to life with swathes of energy, but this results in a rather full-on attack with little room for moments of thoughtfulness. Trieve Blackwood-Cambridge's Tony touches on middle-class caricature a little too much. Scarlett Rayner is more successful as troubled neighbour Leah and demonstrates the mess of youth nicely.
Raphael Akuwudike's football-mad Ste and Rilwan Abiola Owokoniran's Sound of Music-loving Jamie (a last-minute replacement for the recently departed Joshua Asare) are nicely matched and bring a much-needed layer of subtle vulnerability. The moments of awkward discovery and eventual acceptance are beautifully done but are sadly too brief. Akuwudike's initial denial is well matched by the assuredness of Owokoniran as he determinedly sets out to build the life that he wants to live.
There is no denying the significance of this play. That we have TV shows like Netflix's beautifully crafted Heartstopper on mainstream television now is testament to the groundwork that the likes of Harvey laid 30 years ago – and beyond. For me though, I wanted less stereotypes and more exploration of love along with more examination of the themes at play.