Woman removed from Bananaman for throwing bananas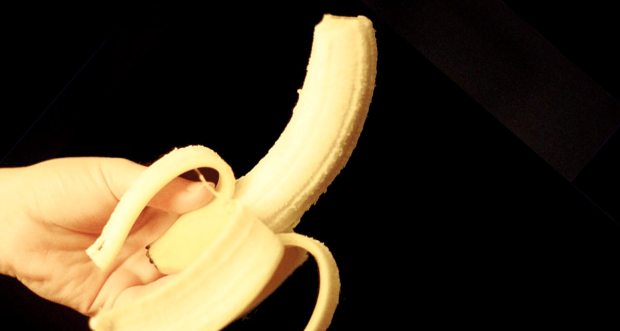 It sounds like it all went a bit bananas over at
Southwark Playhouse
last night when a woman was ejected from the theatre for throwing fruit during the show.
During the first half of a of Bananaman the Musical (based on the cult comic book character) a woman, reportedly inebriated, began throwing the yellow fruit at the cast onstage. After being asked to stop by the staff at the theatre, the women persevered, to such an extent that the show had to be halted and the woman had to be removed.
Jodie Jacobs, who plays Bananaman's sidekick Crow, said that the woman was 'bungalowed' before engaging in a projectile fruit offensive.
The staff at Southwark Playhouse were clearly a level-headed bunch, being commended on Twitter for their professionalism during what must have been a surreal experience.
TJ Lloyd, who plays Chief O'Reilly in the show, said that if the perpetrator had come in during rehearsals to prep, 'she could have had a cameo'. Many audience members took to social media to voice their outrage.
The new British musical is created by Leon Parris and based on both the 1980 Beano comic and the TV cartoon which ran between 1983 and 1986. It is directed by Mark Perry and stars Matthew McKenna as the titular potassium-fuelled superhero.
Interestingly, the producers from Beano were actually in the audience during that evening's production to witness the anarchy.
SHOUT OUT to the woman who got bungalowed at @BananamanShow and began throwing ACTUAL EARTHLY BANANAS at the cast!! She had her party poppers confiscated too! One for the autobiography!
— Crowdie Jacobs (@Show_Jo) January 11, 2018
God bless the theatre staff at @swkplay for dealing with the stupid drunken Girl throwing bananas at Bananaman
— Houston (@Aiden_Houston_) January 10, 2018
Oh my god a drunk woman was removed from bananaman the musical because she was throwing bananas at the cast … first of all who goes to the theatre and gets drunk ???
— Chloe (@chloemariasnow) January 11, 2018
It was funny for 2 seconds but seriously….what did she think she was doing?! Had she come to rehearsals we could have given her a cameo
— TJ Lloyd (@TJLloyd11) January 11, 2018
It's true.
Tonight a drunk lady in the Bananaman audience threw 2 bananas at cast members.
A theatrical first.
WOW.
— Emma Ralston (@Emmaralstonuk) January 11, 2018
And the award for most awful audience member I've ever witnessed goes to the woman tonight in the front row of Bananaman at @swkplay who, additional to talking continuously, threw a banana at a cast member not once but two times. How does ANYONE deem that acceptable in a theatre?
— Alex David Vass (@alexdvass) January 10, 2018
— Emma Scott (@ememscott) January 10, 2018
— Chris McGuigan (@chrismcguigs) January 9, 2018
Time wasn't the only thing flying at Bananaman last night.
Bananaman runs at Southwark Playhouse until 20 January.