Volpone (Swan Theatre, Stratford-upon-Avon)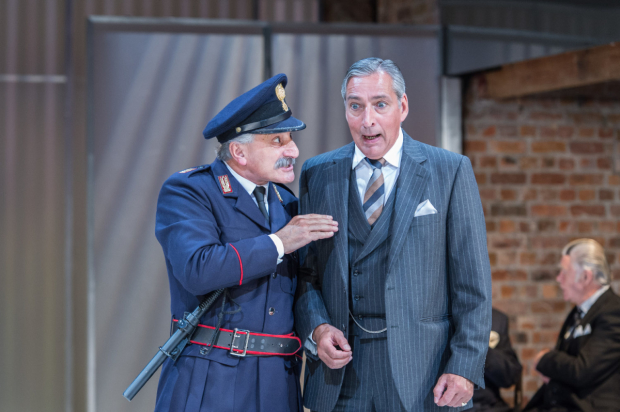 "Good morning to the day; and next, my gold!" exclaims Henry Goodman as Ben Jonson's city fox, a voluptuary so rich he can afford to double his money by pretending he's on his deathbed, duping his wealthy sycophants and exploding his own mythical status by destroying the lives of others.
Trevor Nunn returns to the Swan, the theatre he created for the RSC thirty years ago, to direct this deliriously warped hymn to greed and gusto, and renews the collaboration he and Goodman forged first at the RSC in the 1980s and then at the National in 2000 on The Merchant of Venice.
Volpone is a merchant of Venice, too, but Nunn and Ranjit Bolt, who has edited and revised the text, create a cityscape without lagoons or carnival, so that, for instance, Volpone's support act of a waddling dwarf (Jon Key), a bloated eunuch (Julian Hoult) and a languid hermaphrodite (a bearded Ankur Bahl in high heels and ripped leathers) are more cabinet insiders than cabaret diversions. The team is headed by Orion Lee as Volpone's sharp-suited, inscrutable personal aide, Mosca, the fly in the appointments.
Volpone broadcasts he's at death's door and the vultures in pin-stripes descend. The first Voltore, called precisely that, is Miles Richardson's apoplectic attorney, followed by Geoffrey Freshwater's decrepit landowner, Corbaccio, and Matthew Kelly's Corvino, a sour-faced businessman with a badger hairstyle and a docile young wife, Celia (Rhiannon Handy), happily bartered for Volpone's material favours.
For the genius of the play lies in the way the Jonsonian wolf of London Wall (as opposed to Wall Street) manipulates and messes with his associates' lives. Business transactions, or the promise of them, seep into more personal deals, triggered by Volpone's powers of persuasion and transformation.
This masque-like quality is revealed in his sudden appearance as a mountebank selling miracle cures; Goodman sports a livid purple suit and a De Niro gangster visage, spieling like a stall-holder, where two minutes previously he was gibbering like an ancient, dribbling goner. Then he's a crooning lover, a spy lurking behind his hospital screen and an official grandee in the courtroom, not Jonson's Commendatore but a comic policeman out of G&S ("every inch a constable").
Not just Celia, but also Corbaccio's son, Bonario (Andy Apollo) is compromised by his interventions. And bouncing between them all is the arriviste Lady Politic Would-Be, who, in a tremendous performance by Annette McLaughlin, is a sinuous self-regarding diva of down-payments with elements of Ivana Trump and director Nunn's quondam lover Nancy dell'Olio.
Lady Pol is always checking herself in the screens on Stephen Brimson Lewis's set that, beyond the wealthy shrine of Volpone's antiseptic museum of gold plate and baubles, conveys the encroachment of the courtroom justice in the final stages of the play as well as the non-stop ticker tape of financial market reports.
Some of Bolt's re-writes are over-strenuous; one of Lady Pol's assistants (the Grace Jones-like Sheila Atim) says her boss envies her "because my bubbies are my own." And Sir Politic Would-Be's ludicrous projects – given a toothsome tang by Steven Pacey – of caviar laced with poisoned ink and farts in jars are less funny than in Jonson's unmolested verse.
But the essence of the play is intact, and most of the great speeches discharged with suppleness and fervour. Goodman's study in cynical hypocrisy even goes beyond Jonson in spanning the humours of other European masters such as Molière and Dario Fo. And he bids farewell with a winning Cockney shrug in the epilogue.
Volpone runs at the Swan Theatre, Stratford-Upon-Avon until 12 September. Click here for more information and to book tickets.