The Play That Goes Wrong (Bath Theatre Royal-Tour)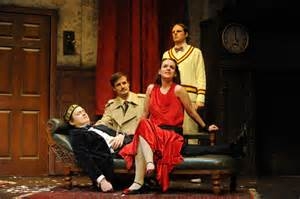 After being named as Best New Comedy 2014 at the Whatsonstage awards there is a significant amount of expectation and interest surrounding the tour of this new show. Penned by Henry Lewis Johnathan Sayer and Henry Shields it is evidently destined to be a cult hit as it crashes, quite literally, on to the stage in Bath this week.
Place yourself watching the worse amateur whodunit type production ever with its splendid array of lost props, mistakes and line fluffs then that is technically the plot. The audience are introduced to The Murder at Haversham Hall, previous disasters have included "Ugly and the Beast" "The Two Sisters" and "The Lion and the Wardrobe" enough said.
This fast paced, slick and brilliantly timed comedy leaves the audience breathless. There are prat falls, scenery disasters and technical failings layered with some of the most extreme physical theatre all in the name of comedy and it works. It's both exhausting and thrilling to watch. Credit for much of this must sit with the beautifully crafted direction from Mark Bell with a set design to match from Nigel Hook
The key to this production, leaving aside the similarities to Noises Off from Michael Frayn is that the entire company work seamlessly together and manage to keep it fresh and alive. Few moments can be anticipated, there is a true sense of living the nightmare with them and this allows the audience to be carried along on a tsunami of energy and laughter; It is a riotous night out which should be on prescription.