The James Plays (National Theatre)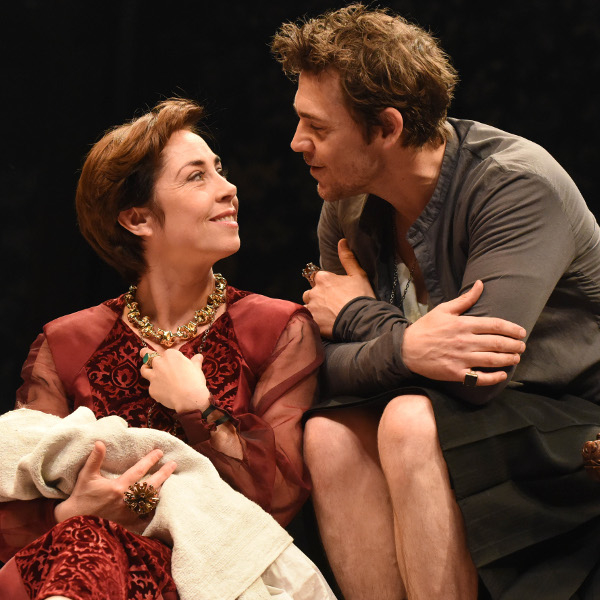 Two things have changed since
Rona Munro
's Scottish king trilogy was the toast of this year's
Edinburgh International Festival
. One: the plays have travelled south and must now convince a predominantly English audience; two: the independence referendum has been won and lost. So how do
The James Plays
hold up in the cold light of day? As historical tales they do very nicely, but as dramas fit for not one but two UK national theatres there are issues.
Although the settings are contemporaneous with Shakespeare's Age of Kings (no less a figure than Henry V guest-stars in James I), for amateur historians these three monarchs might as well hail from the Dark Ages. It's a factual sketchiness that gives Munro a free hand to develop her sources into well-crafted plays, and she does so with panache.
Where the playwright falls short is in her theatrical ambition. The modern stage is a place where all kinds of magic can unfold, where the literal and the warped may collide, where the imagination should be fired. Instead, Munro has written three dialogue-heavy radio plays and it's taken the visual exuberance of Laurie Sansom, artistic director of the National Theatre of Scotland, to alchemise them into brilliant theatre.
Set simply within designer Jon Bausor's dark, barely-changing semi-arena, each play is given its own look. James I is all stomp and woad, James II has puppets, rostrum-boxes and a techno score, James III inhabits a world of retro-chic costumes amid 19th-century furnishings. Common to all three is an immense dagger, jammed carelessly into the stage floor, that changes from play to play in line with the prevailing aesthetic.
The rough-hewn world of the first King James is not a place for airs and graces. Deference to the king is in short supply from the replaced Regent and his family: these are boors who brawl and bully their way to what they see as dignity. After an inconsequential hour of their tiresome laddishness, dramatic tension finally arises when James McArdle's king demands of his disrespectful subjects that they should kneel before him.
'They are three-star plays in a five-star production'
Munro, who is particularly concerned to round out her female characters, supplies the first James with a well-drawn Queen in the shape of the English-born Joan, whom she casts as a domestic listmaker given to bouts of over-anxiety ("I'm sorry your armour hasn't been cleaned"). She is wittily played by Stephanie Hyam who is even better in the next play as James II's French wife Mary.
Andrew Rothney's second James shares the limelight with Mark Rowley who gives a bravura performance as William Douglas, the best friend on whom the king ultimately turns with Scorsese-like savagery. As Rowley plays him, we come close to sympathising. Despite the violence, though, James II is the weakest of the plays overall and even resorts to diverting its audience with an inconsequential game of football.
The third play, significantly stronger, is a curio in which the titular king is a secondary figure in the story of his Danish-born wife. James III is brought to energetic life by Jamie Sives as a wilful man-child, Queen Margaret by Sofie Gråbøl as a woman who transcends the unquestioning obedience of her position. In the trilogy's single best idea, Munro places before this woman a new-fangled Venetian mirror through which, for the first time, she discovers her own potential.
Sansom, who never lets the momentum sag for a second, makes excellent use of a likeable and talented 20-strong acting ensemble, all of whom contribute to making The James Plays a vivid theatrical epic. They are three-star plays in a five-star production; and when the audience clapped and cheered, which they did with wild abandon, it was less for the tales than the virtuosity of their telling.