The Ghost Train (Royal Exchange)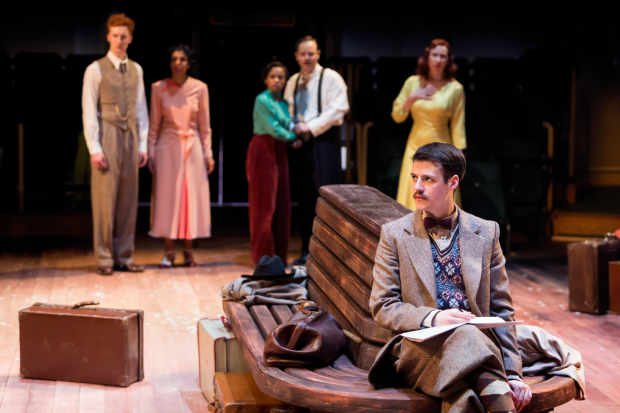 Arnold Ripley
is far better known as an actor than a playwright. For years, he was the dormouse of
Dad's Army
, Private Charles Godfrey, always politely asking to be excused duty. Ironically, it was the injuries he sustained during World War One that forestalled his career as a rep actor, causing him to pick up his pen instead.
The Ghost Train
was his biggest hit, with a two-year West End run and two film adaptations – the second starring Arthur Askey.
It is utterly of its moment; a featherweight comic thriller about a group of travellers stranded overnight in a haunted train station. Local legend has it that a train that careered off a bridge years earlier, drowning its passengers, storms through the station each night. Catch the driver's eye and you die. As it turns out, though, Scooby Doo's got nothing on Ridley.
By rights, 90 years on, The Ghost Train shouldn't be anywhere near a stage. It is a relic of the rep era and, played straight, it would creak horribly. However, Told by an Idiot – a company that never played anything straight in its life – make a creaky play creakier. Paul Hunter and co prize open its old-fashioned moments to crowbar in grand comic routines, sending up its stiff-upper-lip style at every opportunity. It's half cultural vandalism, half cultural restoration and the result is like The 39 Steps, only readymade. They take the genuine article and turn it into pastiche.
'It never quite becomes a runaway hoot'
Given a character like Miss Bourne, a prim older lady with a parrot in tow, Told By An Idiot cast a six-foot tall Spaniard, Javier Marzan, in drag and, for double the comic mileage, get Joanna Holden to run around squawking dressed as her parrot. When someone pulls a bottle of brandy out of his suitcase, it's an excuse for a Mary Poppins-style bottomless bag routine. There are remote-controlled handbags and keyboards in trunks, grand underwater scenes with fish flying past on zipwires and impromptu dance routines. Wherever possible it relishes its theatrical artifice: a lights-out sequence is played with eyes shut and mimed doors lead to mayhem.
It never quite becomes a runaway hoot, and it's more pragmatic about its comedy than it is absolutely inspired. It starts with focus on sound, as floor waxers, metal buckets and a rusty old lawn roller combine to make a steam train leaving the station, before carrying the foley into the first scene, with footsteps and door-slams, to flag up the archaic style. However, Hunter drops it instead of developing it.
Perhaps that's for the best – never let a conceit get in the way of comedy – and it lets the actors take flight. Will Merrick and Lena Kaur are great as wet-behind-the-ears newlyweds, while Amanda Hadingue hams up her salty old stationmaster. The ever-enjoyable clown Marzan, meanwhile, drives a train through proceedings at every turn, as the upright Miss Bourne succumbs to the brandy.
The Ghost Train runs at the Royal Exchange until 20 June 2015