Swanhunter (Royal Opera House and tour)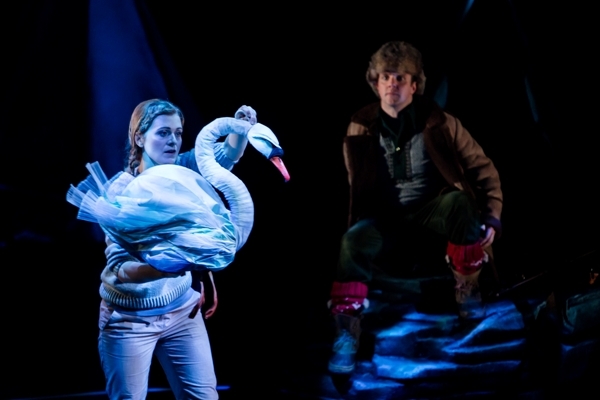 It's a great time to be young. There's so much entertainment around for children to enjoy in the few precious years before they outgrow it all. Theatre has War Horse and Matilda, TV has Horrible Histories and Dr Who, while cinema has everything from Despicable Me to The Hunger Games. (Age-appropriate, of course.)
And opera? That's where they get things like Swanhunter.
Commissioned and originally staged by Opera North in 2009, Jonathan Dove's collaboration with regular librettist Alasdair Middleton takes a promising subject, the Lemminkäinen legend from Finland's Kalevala (a source that fed Sibelius's creative imagination back in the day), then proceeds to neuter it.
A punchy synopsis promises unseen danger, a horrifying creature and a horse with a mane of fire, while Dove's own programme note describes Swanhunter as "an adventure story"; yet, whereas the writers' previous piece, The Adventures of Pinocchio, was witty if overlong at three hours, this one drags at a third of the length.
The problem lies in the opera's callow dramaturgy. Characters are neither credibly grounded nor driven by clear motives, plot development is fuzzy, and dramatic propulsion is as dull as an unloaded crossbow. Even exhortations to "Help me ride the Devil's Horse" lack the thrill of the chase.
Add a new production by Hannah Mulder that's infused with a Blue Peter winsomeness – cosy tents and patterned jumpers are the visual vocabulary – and the puzzle to identify a likely target audience for Swanhunter becomes even harder. It's the tale of a young adventurer's intrepid quest to find a wife, but it looks for all the world like Nuts in May. Even The Wrong Crowd's puppets, though pretty, are devoid of magic.
A vein of gold runs through the evening's ore, happily. Admirers of Jonathan Dove's gift for melody and his talent for orchestration will find plenty to appreciate, from the score's opening motif of restless violin figures over an urgent drum beat to the genuinely moving threnody at "Lemminkäinen is dead", the latter exquisitely delivered by Ann Taylor as the boy's grieving mother in a passage that recalls the Madwoman's lament in Britten's Curlew River.
Indeed, everyone in the six-strong cast transcends the flat production. Adrian Dwyer does sterling work in the title role, while Rebecca Afonwy-Jones, Christopher Diffey and Matthew Hargreaves sing, act and manipulate puppets with aplomb. Justin Doyle's six-piece orchestra is an additional pleasure, with Dove's harp and accordion emerging sweetly from the texture. The highlight though, both of the opera and of the evening, is Suzanne Shakespeare's other-worldliness as the voice of the Swan. It's startling, magical and good enough to grace a better work than this.
– Swanhunter plays at the Linbury Studio in the Royal Opera House until 11 April, then tours to Leeds, Poole, Cambridge, Doncaster, Salford, Alnwick, Hexham, Canterbury and Harrogate.