Review: Wait Until Dark (Richmond Theatre)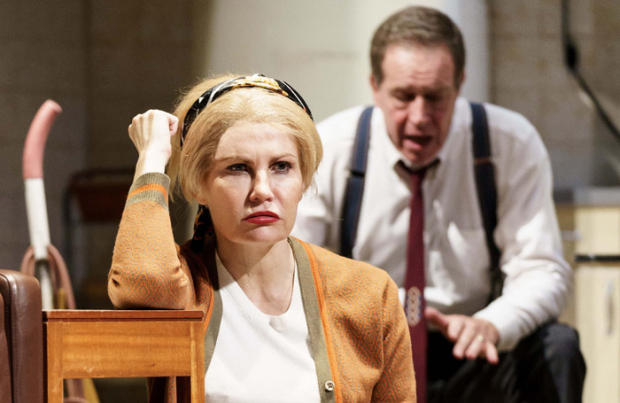 Tip-toeing around someone else's house in the dark, two crooks happen upon a dead body. And with the arrival of the killer, they set in motion a complicated three-way con, in an attempt to recover a doll stuffed with heroin that has found its way into the home of an innocent couple.
This psychological thriller by Frederick Knott was a stage hit in 1966, just as his earlier Dial M For Murder had been. It was quickly made into a hugely successful film starring Audrey Hepburn as the blind wife, Susy.
The role is played here by Karina Jones, and with 'whitewashing' a major issue in Hollywood casting, it's timely that Jones is asking similar questions about why disabled roles are so rarely given to disabled actors. Blind since the age of 13, she's a trailblazer for visually impaired performers, and in a recent interview commented, 'I am the first blind actress to take the role of a blind person in a play that has been around since the '60s. Why?'
It's an empowering part, with Susy emerging from a hellish ordeal a lot better off than the men attempting to con her. Jones captures the fear and isolation of a woman under threat in her own home, but also develops Susy's burgeoning confidence and cunning as it slowly dawns on her that the smoothly affable Mike (Jack Ellis) and policeman Croker (Graeme Brookes) are not what they seem.
Evil mastermind Roat is played as a chilling, Kray-standard psychopath by Tim Treloar, and his showdown with Susy is one of the most gripping scenes, despite taking place almost entirely in the dark.
The problem, though, is that the complex con needs a lot of explanation to make sense. The characters get bogged down with long speeches to establish what's going on through much of the first half. But the action picks up after the interval, with sharp direction from Alastair Whatley and exceptional lighting work from Chris Withers.
Shannon Rewcroft is a gutsy and endearing Gloria, the epitome of the pesky kid who comes good in the long run. Her sparky performance helps lighten the mood, and she gets some well deserved laughs as the reluctant home-help who's thrilled to be involved in the drama of a real-life crime.
The set by David Woodhead is beautifully constructed, and composer Giles Thomas' subtle soundtrack underpins the tension.
This thriller may not be the most nimble production, but it shines a light on the power darkness has over us all, in whatever form it takes.
Wait Until Dark runs at the Richmond Theatre until 9 September before touring to Cheltenham, Cambridge, Salisbury, Exeter, Lichfield, Malvern, Southend, Ipswich, Cardiff, York and Guildford.