Review: Translations (National Theatre)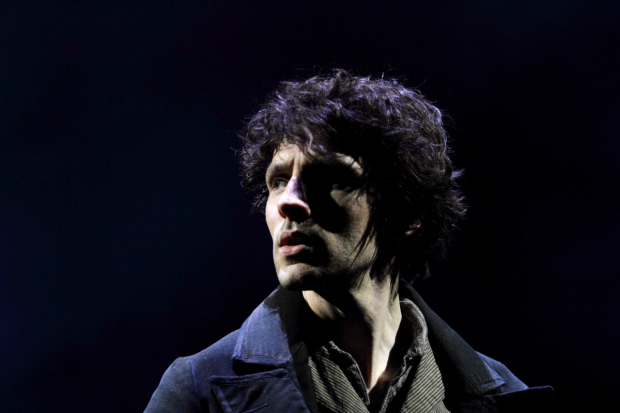 The late Brian Friel once insisted that Translations – one of the great plays of the 20th century – was "a play about language and only language." Set in 1833, as a squadron of English soldiers map County Donegal for the Ordnance Survey and translate its town names into standardised English, the play wonders whether labels and lines aren't tools of conquest and colonisation themselves.
But language, language can be enough. Language has ground Northern Ireland's government to an impasse, as the power-sharing agreement between the DUP and Sinn Féin broke down over a debate – or a disagreement – around the teaching of Irish in schools. One side insists on preserving the old tongue, the other refuses to privilege Irish speakers. Language translates into politics – unionists on one side, nationalists on the other.
In that context, Ian Rickson's ruminative revival presents a cultural battlefield. Designer Rae Smith turns the Olivier stage into a boggy, barren No Man's Land. In its middle sits Hugh's hedge school, where Baile Beag's locals come to learn languages – Latin and Greek from old Jimmy Jack; the mute to speak under Manus's guidance – that hedge school looks a lot like a trench. Its outline of bricks resembles a scattering of sandbags, with books propping up the parapet and wooden duckboards bridging the mud. This is the frontline in a war of words. Judith Roddy's Maire, who dreams of leaving for America, yearns to learn English to no avail: "The old language is a barrier to modern progress," she insists.
By foregrounding a cultural battle over a physical one, Rickson does rob the play of its present-tense exigency. Rufus Wright's bumptious Captain Lancey and his intellectually curious orthographer Lieutenant Yolland (Adetomiwa Edun) are rewriting, and so reshaping, Ireland's landscape right now.
With Hugh's own son Owen working as their translator – and Colin Morgan's half-polished metropolitan veneer cleverly suggests that he's betraying himself as much his community – they impose an English order on County Donegal almost by stealth. The loss of language (and with it a culture) might seem more important, but being a slower process, it feels more mournful than pressing.
Furthermore, that lack of urgency is compounded by a lop-sided love triangle: Seamus O'Hara's stiff-limbed Manus is no match for the heat between Edun's Yolland and Maire. Since there's no competition, for a long while, nothing much seems at stake.
Yet, Rickson is playing a subtler game, turning Translations into a study of decay. While the English troops gleam in pristine redcoats, Baile Beag locals make a ragbag bunch; their skirts soaked, their wool trousers patched up. The school, too, seems to be falling apart: Jimmy Jack's armchair almost worn through. Indeed, the same could be said of Maire and Manus's long-lost love. After "the best harvest" in years, Ireland's famine lurks in the background and, when Yolland goes missing, Lancey's threat to kill the town's livestock and raze it to the ground looks a lot like the English speeding up the process. Friel's play is nothing if not even-handed: it knows that decay gives way to rebirth.
As if to prove the point, in cultural terms, Rickson uses the Olivier stage to highlight Friel's Shakespearean allusions, which only show up because his plays have survived. As Yolland and Maire woo one another with town names – the only language the two of them share – Edun and Roddy could be pastoral lovers, while Ciaran Hinds' Hugh, so imperious in his classroom, and Dermot Crowley's semi-senile Jimmy Jack, shelter from a storm like Lear and his Fool. In hindsight, the hedge school itself seems like an Arden – a clearing where cultural exiles come together to exchange words and ideas. We know that, in time, Irish itself will be endangered. Friel's writing, meanwhile, deserves preserving.