Review: Fatherland (Lyric Hammersmith)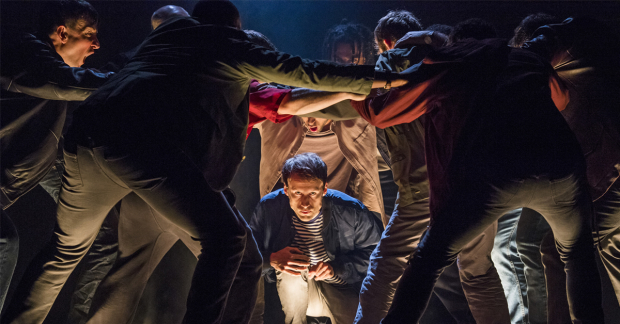 Fathers in popular culture usually fall into two camps: the overweight, lazy good-for-nothings slurping and burping à la Homer Simpson, Mr Wormwood and Jim Royle, or the overtly macho, often absent, manly men à la Rick Grimes, Tywin Lannister or anything played by Liam Neeson. Theatre's prominent papas include Eddie Carbone, Willy Loman and King Lear, hell even Harry Potter causes a sh*tstorm because he's unable to emote to his son.
But here's Fatherland, a verbatim voyage that promises to 'confront contemporary fatherhood' and paint a 'portrait of 21st century England at the crossroads of past, present and future'. Finally, I thought, an opportunity to portray the progression dads have made in the last couple of decades, to stand up for the modern man and show the world we're no longer emotionally devoid blokes with a toolbox. Shame, then, that all Fatherland does is compound this old-fashioned view with a series of often mundane and always morose anecdotes.
The sticking point of this collaboration between playwright Simon Stephens, Frantic Assembly's Scott Graham and Underworld musician Karl Hyde, seems to be the people they've chosen as interviewees. Twelve men from their respective hometowns of Stockport, Corby and Kidderminster – which was never going to offer up a definitive cross-section of the country – have been picked with seemingly little effort, 'a couple of people I found on Twitter' Stephens' onstage incarnation reveals.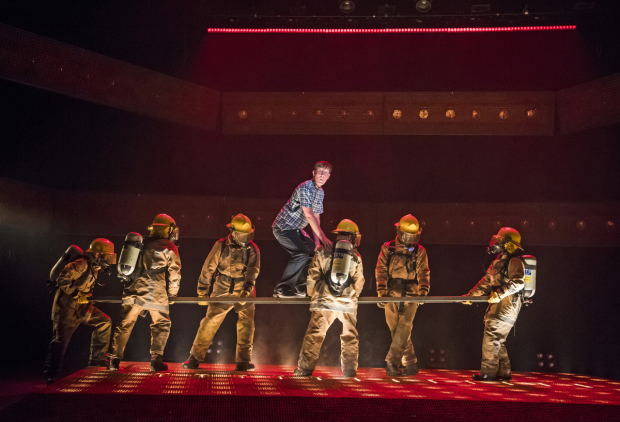 Simon, Scott and Karl (played by Nyasha Hatendi, Declan Bennett and Mark Arends) are centre stage for most of the performance, posing questions such as 'what's your earliest memory of your father?' and 'did your father ever tell you he loved you?', and not a single interviewee has anything remotely positive to say in response; one never met his dad, another's was a bigot who took him to stonings in Saudi Arabia, while another's liked to drive off and leave him in a car park.
There's no talk of the joy fatherhood brings and no revelatory moments, indeed the biggest confession of the evening is when ardent Manchester United fan Stephens owns up to being brought up a Blue. Hyde's music puts the words of the dads over pumping electronic beats to create 'songs' that punctuate the piece, but London Road this ain't and, like Eddie Kay's choreography and Jon Clark's lighting, they create several of the show's most rousing moments, but contextually add nothing to further the narrative.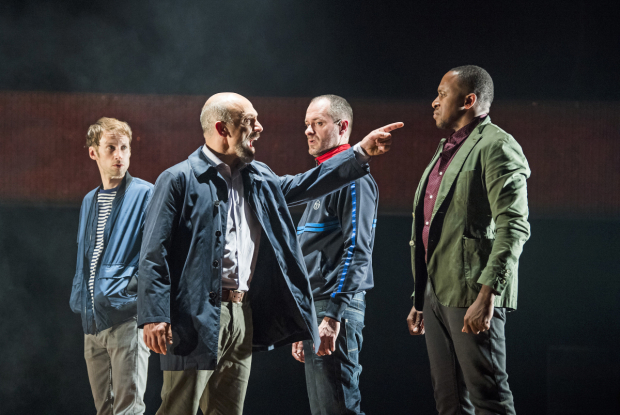 The cast is uniformly OK, with a couple of strong performances, notably from Joseph Alessi as the hard-as-nails Alan who will 'execute anybody' who touches his daughter, and David Judge with the performance of the night as the timid Daniel, Stephens' oldest friend. The coup de théâtre comes in the final moments of the play when a chorus of 40 to 50 previously unseen men flood the aisles chanting as they would on the terraces of Old Trafford.
Ultimately, it feels as though the trio have set out with this brave notion of capturing what paternity has meant through recent history, and ended up with a hodgepodge of underwhelming subjects with which to hash something from. Bitterly disappointing.