Simon Stephens: 'I thought verbatim plays were fundamentally dishonest'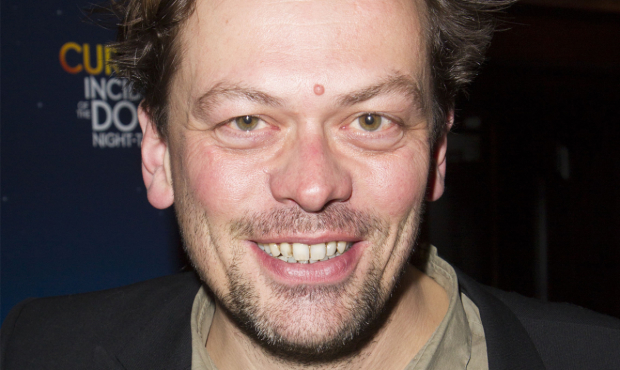 Simon Stephens' new work, Fatherland, is a collaboration with Underworld's Karl Hyde and Frantic Assembly's Scott Graham. It is one of the centrepieces of this year's Manchester International Festival and attempts to look at England through the prism of men's relationships with their fathers. Here he explains a little more.
You're from near Manchester, what's it like up there for the festival at the moment?
The energy reminds me of my times at the Edinburgh Festival. There's this weird dislocation for me because it's got a festival energy but it's in the place where I grew up. I'm having an acute, emotional time, it's really great.
Fatherland is an entirely male company, how has that been?
It's been quite odd – I'm one of those people who hates stag dos, I've only ever worked with an entire company of men once before. But sometimes, and on this occasion, groups of men are not odious. This rehearsal room is like the best of men. It's the most extraordinary company of actors. It's filled people who are funny, gentle and compassionate.
It sounds like it has been fun – does that mean the play has a positive view on fatherhood?
Often I find that the darker the play is, the more fun in the rehearsal room. This is not a very dark play. But it's an attempt at dramatising England through men's relationships with their fathers. If you were to ask any man what their relationship with their father is like, the range of emotional responses would run from gentle affection, to entertaining mockery, to profound love to emotional vulnerability, frustration and sadness. I think the play has that range. We look at the inability of men to tell each other they love each other, and masculine relationships to violence. There's also moments of great lightness, genuine affection and gentleness.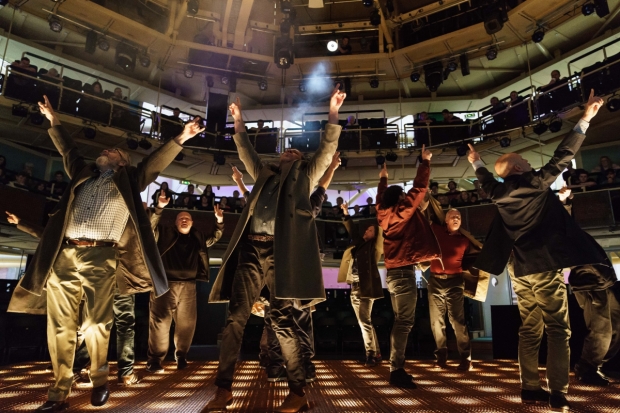 The piece is verbatim, which is a form you've not worked in before. Why not?
In the past I have been hostile to the verbatim form, because I think early verbatim pieces would deny the presence of the interviewer. That, to me, is fundamentally dishonest and in so doing removes the possibility of metaphor. Early verbatim theatre was predicated on the notion that it was possible to make an objective, dislocated, detached documentary study of a problem and it just isn't.
So what brought you to it this time?
Scott [Graham, the director] asked me and I think we should always engage in things that we have never done before. I also think a lot of verbatim practitioners are acknowledging the fundamental misapprehensions at the heart of the form. What's interesting to me about work like Gregory Burke's Black Watch or Alecky Blythe's London Road is the presence of Gregory Burke and the presence of Alecky Blythe. In Fatherland, we've taken that notion and gone a step forward so it becomes a play about a character called Simon and a character called Scott and a character called Karl who decide to go on a road trip to make a piece of documentary theatre about England through the prism of men's relationship to their fathers.
So it's quite meta…?
I always think about it being a deconstruction of content through the content. It's like if Charlie Kaufman had made verbatim theatre with music by Karl Hyde, this is what it would look like.
Who's playing you?
Ferdy Roberts is playing me. It's a really weird experience – I'm really happy with him, he is six or seven years younger than me, so I'll definitely take that. But you should look at who else is cast: our director Scott has basically cast himself as a male model – Emun Elliott. It's hilarious. Bryan Dick is playing Karl and Bryan's 20 years younger than him!
So why this subject of fatherhood and why now?
The notion that resonated within me was the consideration of my relationship with my dad and other people's relationships with their dads. It's a recurring theme in pretty much everything I've written about. I think a disproportionate amount of playwrights – Shakespeare, Eugene ONeill, Arthur Miller – watched their fathers fall from economic stability and die young. It happens a weird amount of times. What also fascinated me was this impulse to move away from looking at London and to try to look at the rest of the United Kingdom.
It's a pretty big task…
It's an impossibly ambitious task, so we've filtered the entirety of the United Kingdom through our three home towns. I'm from Stockport, Scott is from Corby, Karl is from Bewdley. We went back to our home towns and interviewed people about their relationships to their dads. It's interesting that the interviews which have survived into the show are people who are quite important in our lives: Karl's dad's in it, one of my best mates is in it, two of Scott's best friends are. So it's a much more personal piece than we had anticipated. But it's what you do when you're writing. It's what you do when you write a piece about theatre, it's what you do when you're writing an interview with a playwright. You think you're writing about something else but you're revealing something about you.
So Underworld's Karl Hyde is on the music – tell me about that…
It's f**king great! Karl has ostensibly composed what he's described as contemporary folk songs. If you listen to the melodic structures they sound like 17th century Scottish or northern English folk songs, but then you get this absolutely banging Karl Hyde track underneath it, produced by Matthew Herbert.
And is the music simply a background addition?
Actually, the guys are singing it. The more we work on it, the more we realise it's fundamentally following the logic of a musical. There are moments of emotional extremity that can only be articulated in song. And so that's what they do, like you would get in a musical. Then there's the extraordinary Scott Graham-Frantic Assembly choreography which underpins it. It's massive.
Fatherland runs at the Royal Exchange as part of Manchester International Festival until 22 July.