Review: Audra McDonald in concert (Leicester Square Theatre)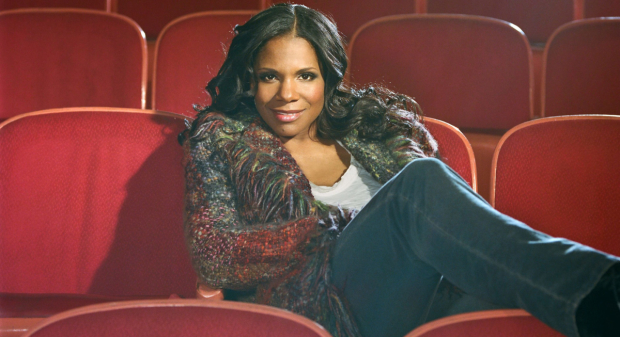 Audra McDonald may not be a household name over on this side of the pond, but she's an exceptionally big fish in the US. A six-time Tony Award winner, she has won more performance awards than any other actor, winning in all four of the acting categories – both musical theatre and straight drama. If you haven't seen her before, take it from me: she has the voice, charm and talent of a Broadway angel.
This isn't the first time she's performed in London – you may have even seen her at the Olivier Awards the other night and perhaps in concert at the Donmar Warehouse back in 2000. But these three new in concert dates pre-empt her appearance in Lady Day at Emerson's Bar and Grill at Wyndham's Theatre, where she will make her West End acting debut as Billie Holiday. This night is a chance, then, to catch the magic of McDonald herself before you see her playing one of the most complicated, troubled and brilliant singers of all time.
A personal, low-key evening, hosted by her long-term friend and pianist Seth Rudetsky, it takes the form of a song, then some informal 'chitter-chatter' and then a song and repeat. Rudetsky and McDonald have history – he accompanied her in her final exam at Juilliard (where she trained as an opera singer) and they have worked together a lot since then. Rudetsky is funny, silly and loves the banter, McDonald rises to it too, smiling her wide, warm smile and occasionally rolling her eyes at his suggestions to reveal this or that story about her life. They are a winning combination, witty, upbeat and they make the audience feel as though they are an important part of it.
The stories we hear include how hard it was for her at Juilliard – where she had to put her love of Broadway tunes to one side and embrace opera – how she first began singing whilst at High School in "Dinner Theatres", theatres where the audience are served dinner ahead of the show ("The first time I did a show without forks clinking I was like – it's so quiet out there!"). She taps into humorous stories of her life, including when her path crossed with those of celebrities. Puff Daddy starred opposite her in his stage debut in A Raisin in the Sun – she has some stories there – and once Liza Minnelli visited back stage ahead of an exceptionally busy Tony night, causing chaos.
The songs, set up rather haphazardly by Rudetsky, who often can't find his sheet music, will be different each night, but the evening I saw it they ranged from "You Don't Bring Me Flowers", "Maybe This Time" and "I Could Have Danced All Night". They are all glorious, sung with her charismatic, full voice which brings meaning to every word. There's an interlude where her husband Will Swenson – also a Tony nominee – takes over to sing a song or two. It's engineered, as far as I can see, to allow McDonald a moment to head backstage and feed her six month-old baby – the reason Lady Day didn't make it over here last year. It's testament to the sort of woman McDonald is – a singer, a star, but she's also a mum and she's not going to let her kids miss out just because showbusiness dictates it. Brava to that and to her.
Audra McDonald in concert runs at the Leicester Square Theatre until 15 April. Lady Day at Emerson's Bar and Grill opens at Wyndham's Theatre from 27 June and runs to 9 September, with previews from 17 June.