Opinions collide with Breeders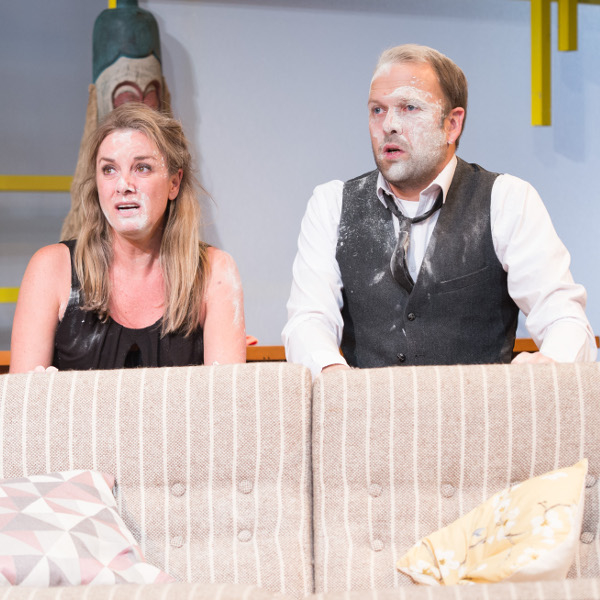 Theo Bosanquet
WhatsOnStage
★★★★
… highly enjoyable new comedy… a play of two halves. The first is rather messy, and it feels at times that Ockrent is building his narrative around the jokes rather than the other way round. There are some great one liners… but a lack of character development gives it a somewhat sitcom feel… however it builds into something much meatier… Cliches occasionally jar, and the recurring motif of the cast singing pop songs in Swedish grows tiresome… Burns and Griffin hilariously compare notes… Outhwaite's increasing mania to be a parent feels painfully familiar… Rooper who steals the show in a setpiece Christmas finale… unlikely to win any prizes for innovation, but it's a witty and refreshingly silly… one of the strongest comedy ensembles you'll see this year.
Henry Hitchings
Evening Standard
★★★
… satisfyingly funny lines. But it feels as if he has created a drama around these jolts of amusement rather than allowing the humour to proceed organically from plausible situations… Tamara Harvey's sometimes strident production feels like a sitcom — but one on to which whimsy has been generously sprinkled. It features notably bizarre scene changes… Breeders impresses most in its claustrophobic and unhappy moments, and Ockrent doesn't dwell on these with enough conviction.
Mark Shenton
The Stage
★★★
… bright and breezy, acted with a fresh vigour… torn between sincerity in the situation and wild grabs for any passing laughs. A running gag in which covers of well-known songs are performed in Swedish between scenes becomes wearying… Tamzin Outhwaite and Angela Griffin as the would-be mums share a credible vulnerability, and Jemima Rooper brings a refreshing vivacity… Nicholas Burns is appealing as the solitary male, and director Tamara Harvey keeps proceedings buoyant…. it isn't a complete triumph, it's a process – like parenting itself – that can be fraught with problems, but is a risk worth taking.
Dominic Cavendish
Daily Telegraph
★★★
…high on optimism, short on basic common sense… Were Breeders to be staged (as it could be) in the run-up to Christmas – it would be much easier to cast a generous eye on its laboured contrivances, borderline caricatures and flagrantly cheap and cheeky mirth… Ockrent's dialogue undoubtedly shows promise and there are welcome populist shades of Alan Ayckbourn in what at times resembles an embryonic sitcom, perkily directed by Tamara Harvey… Though fleetingly amusing, too often it feels as if the play has no real inner life. If you're not in a nurturing mood, you may well leave at the interval, as some people I know did, with evident relief.
Dominic Maxwell
The Times
★★
…It's always easier to spot the small errors of judgment that other people make in their lives than it is to spot the horrendous howlers you make in your own. Even so, you have to wonder whether the two couples in Ben Ockrent's new comedy Breeders, which begins this theatre's Stage One season for new producers, are really thinking things through…even within the elastic parameters of comedy, Ockrent struggles to convince us that these characters would make these choices…The short cuts and over-cute conceits are a real shame, because Ockrent shows promise… Breeders finally delivers as it heads to its emotionally satisfying climax, but elsewhere too much of it is laboured.
Join us on our WhatsOnStage Outing to Breeders on 22 September where you'll get a top-price ticket, free programme and access to a post-show Q&A for just £26.50