Breeders (St James Theatre)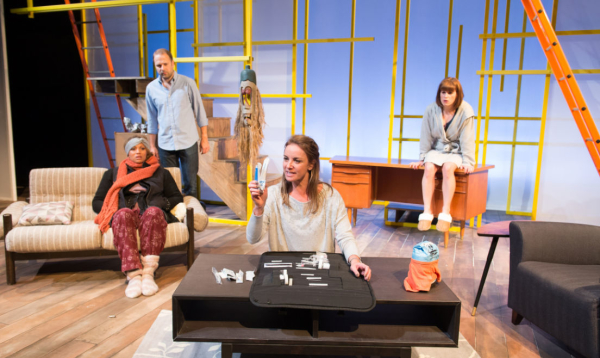 What do you do if you're in a lesbian relationship but want a child who shares your gene pool? Ask your brother to be a sperm donor, obviously.
Such is the premise of Ben Ockrent's highly enjoyable new comedy which, so the programme tells us, is based on his own experience. Starring an accomplished foursome – Tamzin Outhwaite and Angela Griffin as the gay would-be parents, Nicholas Burns as the put-upon sibling and Jemima Rooper as his sceptical girlfriend – it touches on a wide range of themes whilst never keeping its tongue far from its cheek.
A family gathering on St Lucia's Day (13 December), replete with Swedish renditions of Christmas songs, leads to the proposed insemination plan. Jimmy (Burns) is keen, clearly attracted by the idea of fatherhood without responsibility, though Sharon (Rooper) is understandably less enthused. To test their commitment to parenthood, they give the ladies a flour baby, which they soon christen 'Mugabe', abandon at home and dress in a dog coat.
But thanks to the determination of Outhwaite's pop psychologist Andrea (she's written a study of cohabitation titled The Artful Lodger), the proposal is accepted, and Jimmy and Sharon are invited to move into their plush apartment in order to form a conception commune. It will come as no surprise to hear things don't quite go according to plan.
It's undoubtedly a play of two halves. The first is rather messy, and it feels at times that Ockrent is building his narrative around the jokes rather than the other way round. There are some great one liners – a gag about the flour baby prompted a round of applause – but a lack of character development gives it a somewhat sitcom feel. After the interval however it builds into something much meatier, proving an interesting meditation on modern parenthood, sexuality and definitions of family.
Cliches occasionally jar, and the recurring motif of the cast singing pop songs in Swedish grows tiresome. But this is to take nothing away from Tamara Harvey's production or the performances of her cast; Burns and Griffin hilariously compare notes on the lengths they're having to go to in order to conceive ("Every single day I'm up there cracking one out… sometimes I can hear her pacing outside the door!" he pleads), while Outhwaite's increasing mania to be a parent feels painfully familiar. But it's Rooper who steals the show in a setpiece Christmas finale that Richard Curtis would be proud of.
Breeders is unlikely to win any prizes for innovation, but it's a witty and refreshingly silly new play that boasts one of the strongest comedy ensembles you'll see this year.
Come on our hosted WhatsOnStage Outing to Breeders on 22 September and get your top-price ticket, a FREE programme and access to our EXCLUSIVE post-show Q&A with the cast – details here