Judi Dench: 'I have no plans to slow down'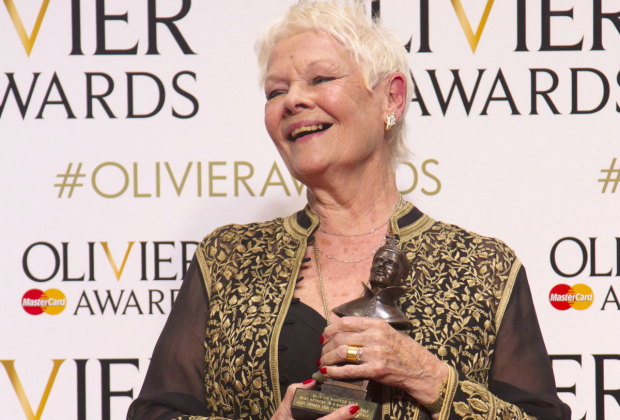 Dame
Judi Dench
has said she has no plans to slow down after winning her eighth Olivier Award.
The actress was speaking backstage at the Olivier Awards following her win for Best Actress in a Supporting Role. She said: "Who wants to slow down? No! I want to be employed. Who wants to be put in a car in the garage?"
Dench now has more Olivier Awards than any other actor in the awards' 40 year history.
She said she had a 'terrific' time working on The Winter's Tale and added, jokingly, that it had been a 'nightmare' working with Kenneth Branagh. "He's sublime, he really is, I can say that because I know him so well. He has energy and a sense of humour like nobody I know.
"That imagination and drive: it's irresistible to work with."
When asked whether she had a bucket list of roles, she said:
"I don't know. I am just trying to get through tomorrow. I want to get through tonight first and then I'll get through to tomorrow."
Other winners of the evening included Kenneth Cranham, Denise Gough, Matt Henry, David Bedella, Imelda Staunton and Lara Pulver. Hangmen won Best New Play and Kinky Boots took home Best New Musical.
Watch our video interview with the winners here.
Watch Olivier Award winners – including Mark Gatiss, Judi Dench and Matt Henry – backstage at the ceremony.
Posted by WhatsOnStage on Monday, April 4, 2016