Judging panel revealed for Kevin Spacey Foundation Artists of Choice grants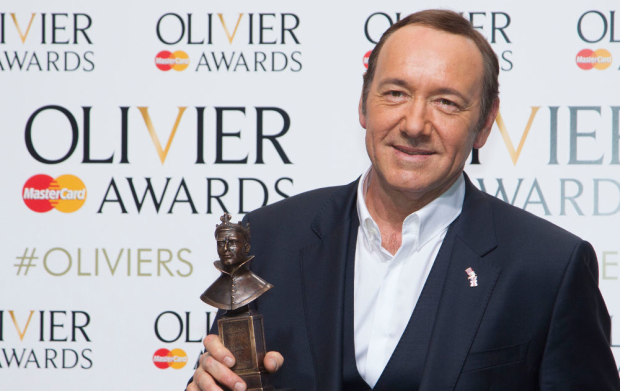 The Kevin Spacey Foundation (KSF), official charity of the 2016 WhatsOnStage Awards, has announced the judging panel for its KSF Artists of Choice program.
The pioneering funding and mentoring initiative is for UK and US based emerging artists working in theatre, musical theatre, music, dance or film. Recipients will receive £10,000 or $10,000 in funding, year-round in kind support from the Foundation and an industry mentor.
Joining Spacey and Steve Winter, the executive director of KSF, on the judging panel are figures including actors Andrew Scott and Cush Jumbo, director Jamie Lloyd and playwright Samuel Adamson.
Choreographers Wayne McGregor and Tamara Rojo will help judge the dance applicants, while West End stars Cynthia Erivo and Alexander Hanson are among those judging musical theatre.
Kevin Spacey said: "I am truly excited to see what emerging artists can do with this opportunity and will be personally overseeing the shortlisting process to discover some of the best new talent coming out of the UK and the US. I am hugely grateful to our panel members for joining us, all of whom share my desire to support those on their way up."
Steve Winter added: "We are passionate about empowering emerging artists to create exceptional new work in a time when funding cuts makes that even more of a challenge. KSF Artists of Choice has the potential to transform the careers of emerging professionals working across the performing arts."
Applications are open on the Foundation's website until Friday 29 May 2015 with in-person shortlisted interviews with all, or some, of the panel members taking place in early June. KSF Artists of Choice will be awarded to five UK-based and five US-based artists in July 2015.
The full panel
Film: Carola Ash, Stephen Beresford, Rhianna Dhillon, Andrew Haigh, Christine Langan
Theatre: Samuel Adamson, Tina Fallon, Cush Jumbo, Jamie Lloyd, Neil Pepe, Andrew Scott, Charlie Westenra, Kim Whitener
Dance: Carrie-Anne Ingrouille, Wayne McGregor, Kevin McKenzie, Etta Murfitt, Tamara Rojo, Lee Smikle, Jasmin Vardimon
Music: David Arnold, Chris Bye, Patrick Hawes, Gillian Moore, Paul Phoenix
Musical Theatre: Warren Carlyle, Cynthia Erivo, Alex Hanson, Tamara Harvey, Theo Jamieson, Laura-Michelle Kelly, Joe McFadden, Ted Sperling, The Stable