Into the Woods (Royal Exchange, Manchester)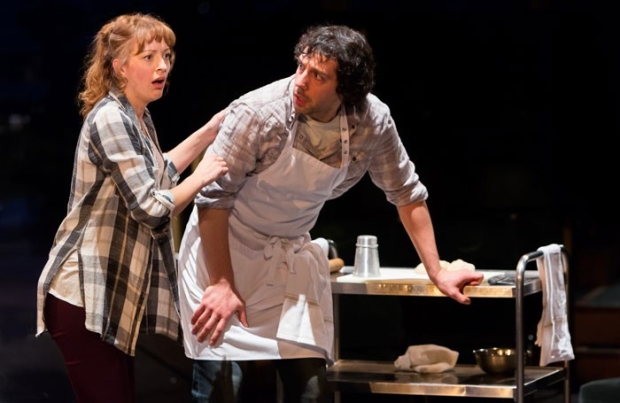 Stephen Sondheim and James Lapine's fairytale mash-up is thirty years old. At the Manchester Royal Exchange, it's showing its age and it really, really shouldn't. Matthew Xia's production, drearily designed by Jenny Tiramani, is just so very ordinary; absolutely bog-standard.
What a missed opportunity. There's so much in Into the Woods that could feel contemporary. Its feminism, for starters. Sondheim and Lapine turn the Brothers Grimm and Charles Perrault tales in on themselves. Cinderella's Prince plays away, too Charming by half; Red Riding Hood's stalked by a lupine sex pest and Rapunzel's locked in a tower, out of reach from mankind. The Giant's a woman, FFS. It couldn't be more 2015 if it dyed its armpit hair and insisted on orgasm equality.
It could so easily be a metaphor for austerity: a world threatened by a giant that crashes to earth; a community of individuals struggling and set against one another. Or, with the narrator killed off in a ritual sacrifice, it might stand for a moment of uncertainty that demands fresh solutions. That's the thing about fairytales: you can find almost anything you want in them. First time out, Into the Woods was read as a parable about AIDS.
So why does Xia find so little in it? The usual notions of parenthood and wish fulfilment, but his forest is just that: a forest. Tiramani dots fir branches around the auditorium like Christmas decorations and makes Gillian Bevan's Witch an extension of it – her left arm like bark; her hairdo a vegetable patch, straight out of an Arcimboldo portrait.
The only aim is to make these folk icons real. Cinderella's in jogging bottoms. The Princes are tweedy Old Etonian types and the Wolf's naked but for a furry jockstrap, the perve. Tying these disparate stories together: the Baker (Alex Gaumond) and his Wife (Amy Ellen Richardson) could be any of us: small business owners, making do and getting by, trying to start a family. They probably shop in Lidl and Uniqlo.
Thing is, Sondheim and Lapine do that anyway: their book pricks the fairytale kingdom with a shot of reality. All those happy ever afters come crashing down like beanstalks. To work, Into the Woods needs the two things in tension: icons made human, fantasies undercut by mundanity. However, rather than gloss, Xia gives us a double dose of reality, and so fails to wring the musical for either its comedy or its poignancy. Julian Kelly's orchestrations don't help: every song's just short of its sharpest.
Fundamentally, there's a serious lack of wit and personality here. These are roles for actors to run wild in. The two princes should be puffed up and primped out, but Marc Elliott and Michael Peavoy never find the all-out one-upmanship of "Agony". Bevan's Witch isn't half wicked enough and Zoutewelle's Cinders makes a pragmatic princess, not one bored by another set of daily chores. Only David Moorst, as a Jack who might well have learning difficulties, makes the most of his role, though Richardson is a sparky, sympathetic Baker's Wife.
Into the Woods runs at Manchester Royal Exchange until 16th January.