My Top 5 Showtunes: Alex Gaumond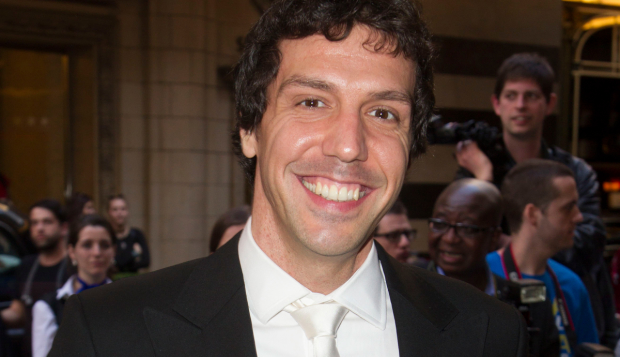 Alex Gaumond's theatre credits include Seven Brides for Seven Brothers (Open Air Theatre), Dirty Rotten Scoundrels (West End), Sweeney Todd (ENO) and Matilda (West End). He is currently appearing in Into the Woods at the Royal Exchange Manchester.
We caught up with Alex and asked him: "If you were stranded on a desert island, which five showtunes could you not live without?"
---
1. "Hello!" from The Book of Mormon
AG: This has to be one of the best openings ever written. You instantly get the tone of the show, you're given a very clear picture of the two protagonists, and the use of doorbells in the orchestration is pure genius.
2. "Big-Ass Rock" from The Full Monty
AG: This was one of my favourite scenes in the show when I played Malcolm. He is discovered on stage inside a full size car, trying to commit suicide by asphyxiating himself in his car through carbon monoxide poisoning. Dave pulls him out, and Jerry and Dave discuss various methods to commit suicide. Malcolm ultimately joins in, thrilled to have found new friends. It's a very funny song with great melodies and David Yazbek's lyrics are infectious. Dark humour at its best.
3. "Quiet" from Matilda
AG: The whole score of Matilda is outstanding, but this song in particular is pretty much perfect. It manages to completely draw you into Matilda's fragile state at that point in the story. It's beautifully honest and delicate, both lyrically and musically (that cello solo gets me every time). And hearing a child's voice sing it makes it incredibly moving. One of Tim Minchin's finest.
4. "Move On" from Sunday in the Park with George
AG: I had to pick a Sondheim song of course! Aside from the fact that this song is beautifully written, I had the huge privilege of being part of the West End production that starred Daniel Evans and Jenna Russell, and seeing those two together on stage every night was simply breathtaking. I'll always have great memories of that production. This song was a particularly moving part of the show because their relationship was so clear. Heartbreaking.
5. "The Next Ten Minutes" from The Last Five Years
AG: This musical is so original and cleverly constructed, no wonder it's had so many productions since it opened in 2001 (including the major movie adaptation released this year). I've always wanted to play Jamie ever since I first heard the cast recording over a decade ago. I love how the structure of the show defies traditional conventions and follows their relationship in opposite order, with Jamie progressing chronologically and Cathy regressing from the final break-up to meeting him for the first time. And this ingenious scene, positioned at the mid-point of the story where their timelines cross over, is their proposal and wedding and is the only time in the whole show when they sing together. Plus, the title of this song cleverly mirrors the title of the musical (Next/Last, Ten/Five, Minutes/Years). Beautiful melodies and lyrics. I love Jason Robert Brown's stuff. In fact, "All The Wasted Time" from Parade was also a strong contender for my list – another beautiful duet.
Bonus entry:
AG: Another song that I love is "Mavis" from Kat and the Kings, but sadly it's not on YouTube. I saw the show when it came to the West End in 1998 and absolutely fell in love with it. I think it's the only show I've ever paid three times to see in such a short time period (it ran for just over 4 months). The South African cast was phenomenal, their energy was unlike anything I've ever seen. The show was so much fun, I was hooked. In the song "Mavis", they all perform a cappella with various objects to create an incredible blend of harmonies and rhythms. And the song is very funny too. So good. Sadly, unless you own the cast recording (which I proudly do), you can't hear it!