Guest Blog: The Pajama Game producers on why crowdfunding is the future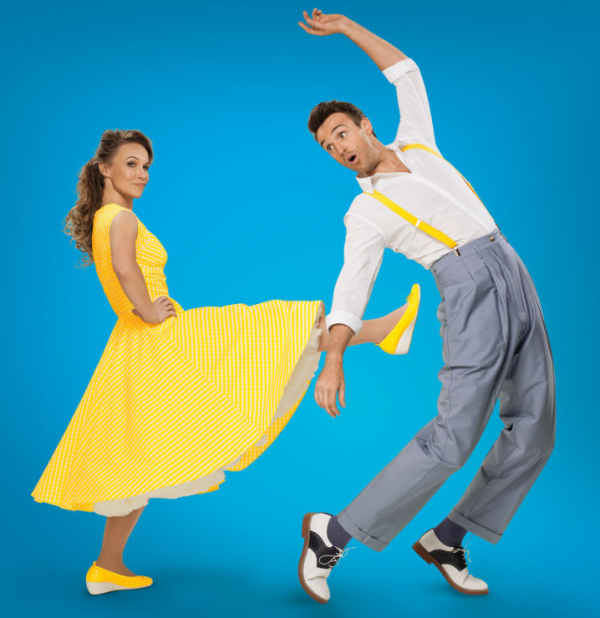 When we sat down to plan the commercial fundraising campaign for The Pajama Game we all felt it was time to do something a little different. As a group of producers we were all interested in looking at new ways to finance our theatre projects.
Up until The Pajama Game all the finances for our commercial theatre productions had come from what in essence is a limited pool of theatre investors – people who were 'in the know' and people who probably crop up on the pages of many theatre producers' black books. We would go to these people with the strategy being that through a multitude of meetings, phone calls, lunches and dinners we'd extol the creative and financial virtues of our production, and the excitement we all shared bringing The Pajama Game into the West End.
Commonly called 'angels' in the theatre world we would say that most of these people share two things; a suitable amount of disposable income and a passion for the theatre. They understand both the risk and the potential reward a theatre investment offers. You can work out for yourself the kind of regular monthly returns someone putting in a modest amount of money may have had in a long running show in the West End. Often these are musicals and once they pay back their original investment an investor can then earn a modest income for years to come. At the other end of the spectrum is the short run play. Often 12 to 14 weeks in the West End, limited engagements, where a producer is looking to recoup the initial costs very quickly and turn a profit within the three to four month time period; if successful these models provide a return on investment that more traditional investments can only dream of.
However, we were looking to the future as well, thinking about how we could create a new and hopefully loyal group of potential investors for future productions. Traditional standard theatre investment broadly starts between £2,500 to £10,000. These figures represent a small portion of the capital one needs to raise to mount a show. We wanted to challenge that model and invite people to invest who could begin by committing a lot less than these standard amounts.
The biggest challenge was how would you manage potentially many hundreds of people who might want to start out by putting in a small amount of money (£50 or £100 for example)? Traditionally theatre investors all get a version of a standard contract with their rights and ownership of a percentage share of the show and potential profit. They are communicated with individually via the producer so they can keep in close practical and financial touch with how the production is doing. One has individual relationships with investors, it's what makes the process successful and to some extent bespoke. With the aim of securing potentially hundreds of new investors the key was going to be answering the question: 'how do we manage the process?'
This was when we contacted Seedrs, thinking that if other forms of start-up companies could run their businesses this way, why couldn't commercial theatre? Seedrs are a web based crowd-funding platform for investing in early-stage start-ups. Seedrs allows users to invest as little as £10 into the start-ups and lets start-ups raise investment from friends, family and other independent investors in exchange for equity in the business, or in our case a percentage share of the show. Crucially, Seedrs and ourselves had the same aim; the democratisation of investment. Both organisations seek a wider base of potential investors by giving them access to investments that were previously only available to high-net-worth or 'sophisticated angel' investors. The Pajama Game had a theatre booked, a confirmed run, the creative team and full cast in place, fantastic reviews from the run at Chichester Festival Theatre and complete financial projections available to share. We had all the assets, so set about finding out more.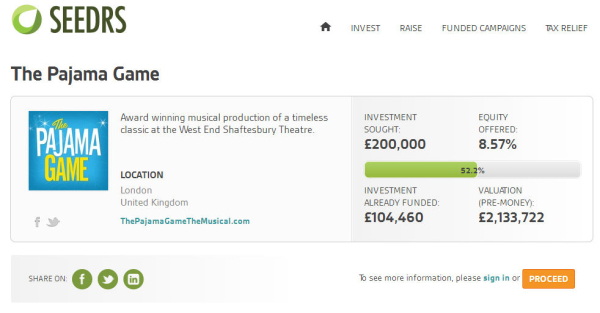 The absolute key thing for us as independent producers was that we had to have a direct relationship with the investors. Yes, Seedrs would host the project as one of its investment opportunities, but we would provide all the assets that potential investors could view and we would communicate directly with them to answer any questions or go into detail on the information we had provided. Also key was that at the end of the process we would have the contact information for everyone who had invested in order to stay in touch with them and offer them opportunities for the future.
For a limited run production like The Pajama Game it made a lot of sense as we didn't have the resources to create our own funding website platform and backroom structure to manage the process – something that can cost thousands of pounds. We are more than happy to pay Seedrs a small commission on the money raised in order for them to host the opportunity and provide all the legal and administrative backup for what we were doing. It also affords the investor peace of mind as the site is fully regulated and FSA regulated so there is a great amount of security offered them by investing through this medium. The investor is also charged a small fee but this is only on the potential profit and does not effect their return of investment.
So far the response has been really positive, with 118 new investors signing up contributing to over £100,000 being invested. For us it really highlights what an appetite there is for this kind of investment and how there is a huge variety of people out there, from all walks of life who want to be part of the industry but whom until now haven't been afforded the opportunity. Hopefully The Pajama Game will be the first of many for these new investors and we can continue to develop our relationship with both them as individuals and Seedrs as an organisation.
To view our Seedrs campaign, please click here.
Got something to say? Email your blog pitch to editorial@whatsonstage.com
Come on our hosted WhatsOnStage Outing to The Pajama Game on 8 May 2014 including a top-price ticket, a FREE programme and access to our post-show Q&A – all for £34.50 (normally £63.00 for ticket alone).