Dracula: Mina's Reckoning on tour – review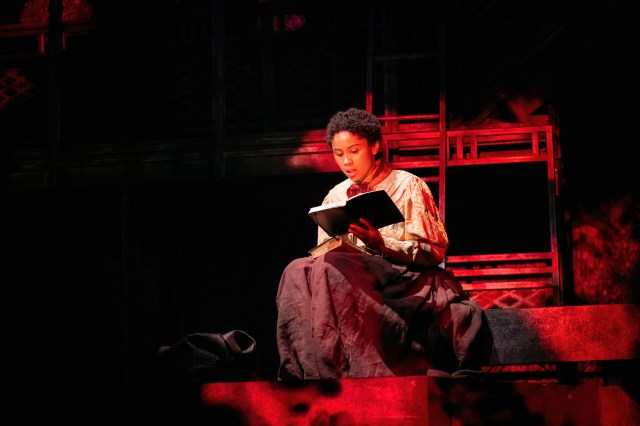 How do you make a classic tale fresh and exciting when you bring it to the stage? In her adaptation of Dracula, Morna Pearson's answer to that question is to set the story in an imagined women's asylum in Aberdeenshire, a suitably creepy location that offers parallels to the prison situation of Dracula's castle. When we first meet Mina, the protagonist of this version, she has been admitted to the asylum, and her unfolding of her story parallels that of her beau, Jonathan Harker, as his journals tell the tale of what befalls him in Transylvania.
The setting provides much of the play's eerie atmosphere, and almost all of the show's sense of threat comes from Kenneth MacLeod's sinister set, which has multiple layers that allow several scenes to play out in parallel, and subtle lighting projections enrich the developing story.
Unfortunately, there's not much menace to be found elsewhere. Stoker's novel consists of lots of static re-telling of events that have already happened, and neither Pearson's script nor Sally Cookson's direction give the events the fleetness of foot or the sense of mystery that they need to succeed on stage. Dracula's coming ashore, for example, is told as a straight poem, but that holds up the action as a static recitation rather than furthering it.
Furthermore, much of the script is lazy or trite. Dr Seward's part consists almost completely of misogynistic utterances that we enlightened 21st-century viewers are meant to laugh at condescendingly, but there are so many of them that their value rapidly wears off, and their function becomes merely to give us some satisfaction at Seward's eventual demise. There is barely any sense of darkness or threat, which is fatal for a horror adaptation. Considering the material Pearson had to work with, it's disappointing that the show is rarely scary and frequently dull.
The two redeeming characters are the lead ones. Liz Kettle brings a lot of charisma to Dracula, and her voice is commanding even if her curling arm movements and spindly finger-waving owe more to camp than gothic. As Mina, Danielle Jam is full of energy and determination, and she takes control of her destiny in surprising ways towards the end, justifying the play's title. Indeed, the most interesting writing comes in the second half in several scenes between Mina and Dracula which develop the dialogue in ways that suggest interesting possibilities. However, it gets overtaken by Grand Guignol all of a sudden, and the play's final section closes the loop of the framing device with neither subtlety nor particular purpose.
So there are moments that make this Dracula interesting, but mostly it's disappointing and flat. How do you make a classic tale fresh and exciting? Not like this.